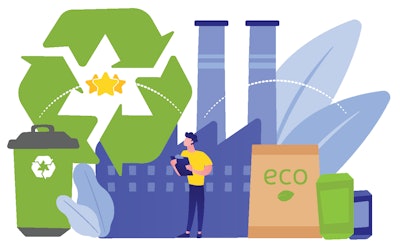 PMMI Business Intelligence: 2023 Sustainability and Technology - The Future of Packaging and Processing
More companies are adopting environmental, social, and governance (ESG) frameworks to add long-term sustainability to packaging operations.
That's according to Top to Top Summit 2023 findings shared in PMMI Business Intelligence's report, "Sustainability and Technology – the Future of Packaging and Processing." During the Top to Top segment on ESG, the topic was introduced as being "very high level in many companies," emphasizing packaging operations.
ESG is a holistic framework that helps companies understand how they manage the risks and opportunities linked to sustainability and plan accordingly.
ESG in packaging stands out
Summit panelists shared their success stories of ESG in packaging, including one who said their ESG plan comprises four pillars: Product, Operations, Internal and External. He said their ESG operations are focused on reducing greenhouse gas emissions, improving water conservation, and reducing waste, as well as implementing initiatives internally for associates and externally for the community.
The same panelist highlighted the close relationship between their ESG program and packaging, specifically mentioning goals related to PCR (post-consumer recycled) inclusion, material reduction, problematic materials, and recyclability.
Another panelist, a senior director of engineering, explained that "currently 93% of our packaging materials by volume meet the goal of renewables, recyclables, or compostables." That included compostable fiber bowls or frozen meals that prevented the generation of 11 million pounds of plastic in fiscal year 2021.
The company now has a target to reach 100% adherence to these goals by 2025, but the panelist added that the last 7% is "difficult to get."
Panelists also highlighted the importance of providing more public information about sustainable practices, including using recyclable material, working with growers in their supply chain on sustainable agricultural practices, setting realistic post-COVID-19 goals and timelines, and the need to work together across the industry.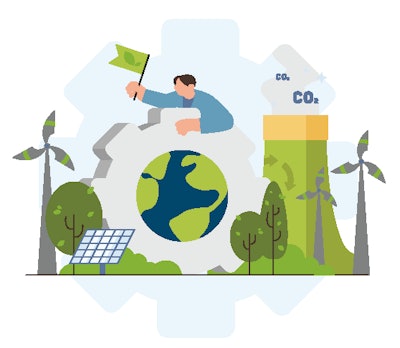 "We need kind of more than just ourselves working in silos and collaborating with suppliers, OEMs, other brands, associations," one panelist said. "Everybody has to do this and try to set standards so we don't continue to see volatility in our markets."
A company executive shared that they switched to a pre-dosed flexible pouch, resulting in savings of up to 85% in energy, water, and greenhouse gas emissions.
Equipment suppliers as an ESG solution
Another panelist said they were working with OEMs to bring "more variety of packaging formats that are outside the machine limitations or the boilerplate when we bought the machine… retrofitting existing assets to do new things.
The discussion included talk of the demand for packaging equipment capable of accommodating fiber-based and flexible materials. The group also mentioned the potential for OEMs to integrate features like waste heat recapture, improved insulation, variable frequency drives, and other operational efficiencies into their products. Presenters also said they saw OEMs as potential collaborators in assisting companies with prototyping diverse assets.
When the discussion moved to questions from the floor, panelists were asked about their ESG strategies and metrics in relation to OEMs, with one panelist revealing his company already includes a score-carding question for preferred partners.
The potential for overall equipment efficiency (OEE) being used to improve ESG metrics was highlighted by participants, such as reducing damaged packaging or detecting issues earlier in the process.
"We need to think about ESG as part of our innovation and productivity strategy, not separately, which I think is what we've done in the past couple of years," one speaker said.
Other ESG projects and strategies
Top to Top discussion participants also talked about their projects within their companies, including measuring and optimizing agricultural practices, in one case reducing the use of chemicals used on plants by 50%.
Others mentioned reducing trucks on the road, in one example, by 10,000 a year through the creation of a vertically integrated process in which manufacturing cans and filling them take place on the same site.
Participants also mentioned using new equipment to shorten changeovers.
Specific waste reduction initiatives were highlighted by some groups, including reprocessing films and foils, remanufacturing components, reducing, and recycling corrugate for packaging, and reclaiming water in the process.
SOURCE: PMMI Business Intelligence, 2023 Sustainability and Technology – The Future of Packaging and Processing
Download the FREE report below.