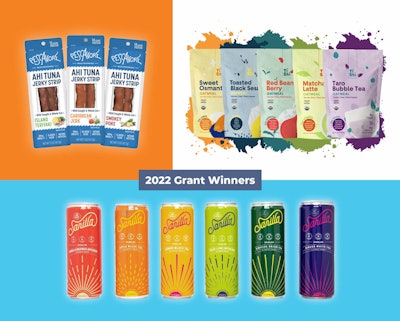 The Emerging Brands Alliance, an organization dedicated to helping CPG brands scale manufacturing, has announced the finalists for the 2023 Emerging Brands Grant. The Alliance will award $50,000 in grant funding to one emerging brand this year, to aid in the purchase of packaging or processing machinery.
Among the entries were manufacturers of pet products, plant-based or better-for-you formulations, ethnic foods, and mission-based brands that promote sustainable solutions and charitable giving.
The 2023 grant finalists are:
Baozza! - Brutus Broth - CARNIVORE SNAX - Char Crust Dry-Rub Seasonings - Dokkaebier - Dream Pops Inc. - Flouwer Co. - Frutero Natural Foods Inc - Jot Labs - Legally Addictive Foods - OffLimits Holdings, Inc - Ritual Zero Proof - Stack St Coffee - Tidal Foods PBC - True Made Foods - Whole & Free Foods LLC (Every Body Eat®) - Winnie Lou - Animal Health Solutions Inc. - Atlantic Sea Farms - B NUTTY LLC - BeeFree Inc - BLK & Bold - Chia Smash - Craftmix - Drupely Inc / Graza - El Guapo - Fabalish - Jaju Pierogi - Kennedy Rice Mill, LLC - Lucy's Inc. - Mochidoki - Morenita Foods - NuTreatments - Pacific Pickle Works - Popsalot Gourmet Popcorn - Pulp Pantry - Sugar Bliss - Sugardoh - Sun & Swell - Sweet Laurel - T-Rex Cookie Company - Tarnished Truth Distilling Company & Coastal Cocktails
The grant award winner will be announced at the Emerging Brands Summit, September 10 in Las Vegas. Comments Kim Overstreet, Director of the Emerging Brands Alliance, "The list of finalists is impressive…many of these brands are already award winning, and the finalists all have the potential for explosive growth."
In 2022 three $20,000 grants were awarded at the Emerging Brands Summit in Chicago to Yishi Foods, Pescavore, and Sarilla. Yishi recently won People Magazine's prestigious "Best Instant Oatmeal of 2023" award and was featured in their July print magazine. The brand used their grant award to expand their oatmeal line, and recently launched a new line of oat spreads. Pescavore has also expanded into Target and REI stores, and used their grant award to purchase new labeling machinery. Sarilla also expanded their product line with the grant award.
For more information on the Emerging Brands Summit: https://www.emergingbrandssummit.com/