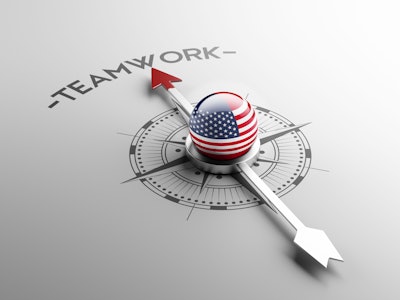 U.S. Agriculture Secretary Sonny Perdue and FDA Commissioner Scott Gottlieb, M.D. announced a formal agreement aimed at making the oversight of food more efficient and effective by bolstering coordination between the two agencies. The formal agreement outlines efforts to increase interagency collaboration, efficiency and effectiveness on produce safety and biotechnology activities, while providing clarity to manufacturers.
"Today, Commissioner Gottlieb and I signed a formal agreement to promote coordination and the streamlining of capacities and obligations on shared concerns and jurisdiction," said Secretary Perdue. "Congress passed the Food Safety Modernization Act and assigned responsibilities to the USDA and the FDA. The USDA has the knowledge and expertise to support the FDA's work related to farming. We at the USDA have a motto: Do Right, and Feed Everyone. We believe this joint effort will help us move one step closer to that goal."
The FDA and the USDA have worked closely over the years to oversee the nation's food supply. The USDA oversees the safety of most meat, poultry, catfish and certain egg products while the FDA has authority over all other foods such as dairy, seafood, produce and packaged foods. The USDA and the FDA are partnering in many key areas, including the implementation of produce safety measures and biotechnology efforts.
"Secretary Perdue and I share a deep commitment to further strengthening our nation's food safety system in the most effective and transparent way," said FDA Commissioner Scott Gottlieb, M.D. "Over the last several months, the Secretary and I have worked closely and identified several areas where we can strengthen our collaboration to make our processes more efficient, predictable, and potentially lower cost to industry; while also strengthening our efforts to ensure food safety. This agreement not only formalizes this ongoing coordination, but presents a great opportunity to expand those efforts through better integration and increased clarity to the agriculture and food processing sectors. Our coordination with these sectors plays an integral role in helping to keep our nation's food supply safe and secure."
This agreement is the agencies' newest initiative to expand those efforts and take new steps to streamline regulatory responsibilities and use government resources more efficiently to protect public health. It aims to increase clarity, efficiency, and potentially reduce the number of establishments subject to the dual regulatory requirements of the USDA and the FDA. For example, when a facility, such as a canned soup facility, produces both chicken noodle soup and tomato soup, it is currently subject to regulation by both agencies. The agreement tasks both government organizations with identifying ways to streamline regulation and reduce inspection inefficiencies, while steadfastly upholding safety standards for dual-jurisdiction facilities. This can reduce costs on industry and free government resources to better target efforts to areas of risk.
The agreement also commits the USDA and the FDA to identify ways the agencies can better align and enhance their efforts to develop regulatory approaches to biotechnology, as each agency works to fulfill commitments outlined in the September 2016 National Strategy for Modernizing the Regulatory System for Biotechnology Products and the more recent Task Force on Agriculture and Rural Prosperity Report. These initiatives established a vision for increasing transparency, predictability and efficiency of the regulatory processes for biotechnology products.
The agreement also calls for the FDA and the USDA to enhance their collaboration and cooperation on produce safety activities. The FDA is implementing the FDA Food Safety Modernization Act (FSMA), which shifts the food safety paradigm from one of reaction to prevention of foodborne illness. Under FSMA, the FDA coordinates with state and/or territorial government agencies, which will conduct most farm inspections under FSMA's Produce Safety rule.
Resources: