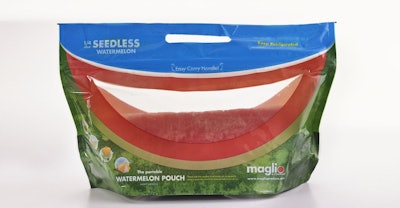 Produce company Maglio has introduced a package for cut watermelon that adds consumer convenience and an extended shelf life. Used for Maglio's sliced watermelons, the ReadyRipe Watermelon Pouch was recently awarded the United Fresh Innovation Award for Best New Packaging at the 2015 United Fresh Convention in Chicago.
Packaging includes two gusset bag designs custom-sized for ¼-cut and ½-cut sliced watermelon that include a clear window to allow consumers easy view of the fruit quality before purchasing.The patented design, exclusively used by Maglio, keeps the fruit fresh for an extended period of time—up to 11 days from the date of production—as compared to conventional plastic overwrap methods.
Aside from the extended shelf life, the benefits for consumers include a convenient carry handle, a compact, resealable storage design, and the ability to purchase only the amount of watermelon they need. This product has already been successful in a test market of more than 600 stores across the U.S., with plans to roll out in additional markets this year.