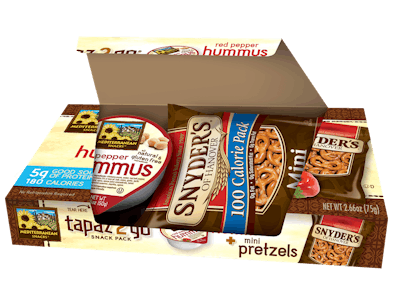 Since its introduction in spring 2013, tapaz2go—a shelf-stable, portable, hummus and crackers snack pack—has occupied the sweet spot of snacking trends: convenience, healthy ingredients, and plenty of protein. Now, brand owner Mediterranean Snacks' new hummus and pretzels pack is meeting another consumer demand: less than 200 calories.
Mediterranean Snacks in Boonton, NJ, is a provider of baked legume-based snacks, such as lentil and chickpea crackers, and lentil chips, among others. Its introduction of tapaz2go expanded its offerings into the "on-the-go, mini-meal" snack category. The original line in three hummus varieties includes a 21-g pouch of lentil crackers and an 80-g thermoformed cup of hummus packed in a portable, compact carton. Meeting healthy snackers' needs, the lentil crackers are Non-GMO Product Verified and Gluten-Free Certified, and the whole kit provides 7 g of protein.
A key convenience attribute of tapaz2go—for the consumer, distributor, and retailer—is the products' shelf stability, making it a popular item for airlines, foodservice venues, and vending machines. "After it was introduced, it became a great supply chain item because you can ship it ambient, and you can store it ambient," says company Vice President of Marketing Lonnie Williard. "You don't have to worry about managing your inventory the way you would for a perishable item." For consumers, having a product that doesn't need refrigeration means it can be consumed anywhere, anytime.
Williard explains that Mediterranean Snacks spent nine months developing a proprietary formula and process for the shelf-stable hummus. "It's a combination of the pasteurization technique that we use, the balance of the acidity in the hummus, and finding the right packaging," she says.
In March 2015, the company launched a new tapaz2go version comprising a 50-g cup of red pepper hummus and a 0.9-oz bag of Snyder's mini pretzels, with 5g of protein and 180 calories. The carton has a longer, thinner pencil case-like shape, designed to appeal to Millennials by fitting easily into backpacks and briefcases.
The two cartons include other structural differences as well. The cracker pack has a circular perforation on the back panel that, once removed, allows consumers to place the hummus cup inside, creating a "mess-free serving tray." The pretzel carton is perforated along the top and front, allowing the consumer tear open the top of the box and peel it back, making the box itself the serving tray.
Carton graphics, designed in-house at Mediterranean Snacks in collaboration with two graphic designers for the two different products, places the focus on the snack components and the product benefits. "When we first launched tapaz2Go with crackers, the graphics were slightly different," says Williard. "We didn't emphasize enough that you were getting hummus and crackers. We spent more of the package real estate trying to explain tapaz2Go. So we learned from consumers that they were more interested the hummus and crackers than in trying to understand the tapaz2go concept."
Tapaz2go with crackers and with pretzels is available nationwide and in some parts of Canada for US$2.99 and US$1.99, respectively, in nearly 5,000 locations, including grocery and convenience stores, specialty retailers, and a host of venues where food is sold for immediate consumption, including college bookstores, hospitals, airports, etc.