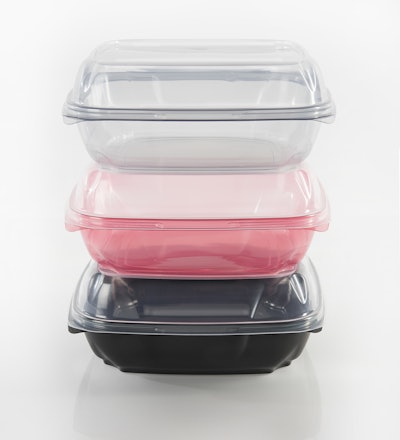 Tray-Pak Corporation has created new food containers for hot-to-go and heat-at-home applications made from UltraClear polypropylene (PP) clarified with Milliken's advanced Millad NX 8000 technology. Tray-Pak, a leader in custom thermoformed plastic packaging, chose UltraClear PP to offer its customers a unique combination of glass-like clarity, microwave/hot fill capability, and recyclability—and the option to enhance the containers with Milliken's ClearTint colorants.
Tray-Pak has introduced these containers with the flagship 9-inch by 9-inch dome lid package. The company also developed a 6-inch by 6-inch container and a 7.25-inch by 5.6-inch rectangular container. They will be the first commercially available food containers in North America to feature UltraClear PP.
"Tray-Pak has always brought new material innovations to the market," says Ashley Waszkiewicz, marketing manager, Tray-Pak Corporation. "The partnership with Milliken combines our excellent design and engineering capabilities with advanced material technologies that provide clarity similar to PET and the heat performance and sustainability of polypropylene. UltraClear PP allows us to create products that meet growing trends, such as the move away from expanded polystyrene in favor of a more easily recycled material. Tray-Pak looks forward to launching the line later this year and plans to continue designing tailor-made products that will use this material technology to target consumer demands for clarity and microwave capability."
"Tray-Pak's attractive hot food containers are a great and practical example of how readily UltraClear PP can be adapted to the requirements of new applications," says Cristina Acevedo, global product line manager, Plastics Additives, Milliken & Company. "This versatile material checks 'must-have' boxes that are important across many packaging sectors, including enhanced shelf appeal, improved sustainability, and high performance. These attributes position it favorably against traditional resins and offer many opportunities for material upgrades."
At the Dairy-Deli-Bake Seminar and Expo, Tray-Pak's nine-inch by nine-inch container is being shown in several variations, including tinted clear bases that provide a pop of color to enhance the appearance of the contents. The bases can be configured with a single cavity or three cavities, making them suitable for quick-serve restaurants, grocery store hot bars, and other take-out food providers.
The six-inch by six-inch containers, with a single cavity base, share a similar design to the nine-inch by nine-inch containers with a domed lid providing inherent stackability. The rectangular containers, also with a single cavity base, have a slightly domed lid. All lids and bases will be available in UltraClear PP and all are microwaveable.
The Millad NX 8000 additive gives PP a clarity boost that overcomes the undesirable cloudy appearance of natural PP in sheet and thermoformed applications. UltraClear PP offers highly attractive transparency, similar to that of PET, for meat trays, clamshell containers, and lids. UltraClear PP also offers important benefits such as mono-material packaging, easy seal, and impact and heat resistance.
Milliken's ClearTint colorants deliver the brightest, cleanest, and most transparent colors in PP. They are precisely designed to enhance the Millad NX 8000 clarifier. The deep, rich shades achievable with ClearTint are unavailable with traditional pigment colors. Milliken's innovative colorants are Food and Drug Administration (FDA) compliant and provide freedom from color migration or extraction.
Companies in this article