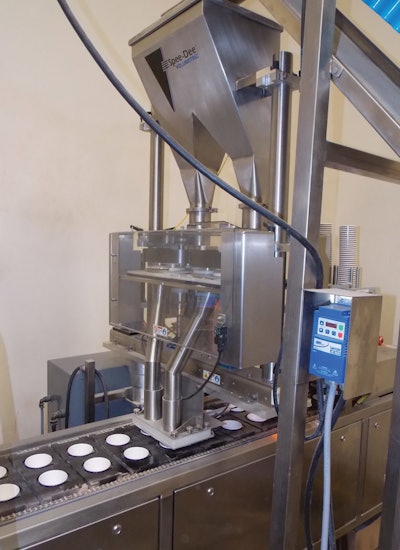 Respect, fairness, and integrity are more than just words—they're guiding principles that Honeyville, Inc. has been following for more than 70 years. Those values also extend to the vendors they do business with, which is one of the reasons why Honeyville selected Spee-Dee Packaging Machinery to help them fill and package their grains, rice, and other dry baking mixes.
Founded by Lowell Sherratt in the early 1940s, Honeyville has grown to become one of the nation's top producers of grains, flours, specialty ingredients, and food services to food manufacturers around the world. Today from its Rancho Cucamonga, CA, facility, Honeyville manufactures and packages millions of pounds of products every week. And the role of measuring, filling, and packaging much of that product falls on a fleet of nine Spee-Dee auger and cup fillers.
A core element of Honeyville's business model includes blending many additional ingredients into its products. Honeyville has an in-house research and development department to prepare exact blending formulations for the several hundred brands it packages from its California facility. To accommodate this demand, Honeyville uses a variety of specialized blenders, each having a high-level capacity. After the product is blended in large totes, they are packaged, depending on application, in any number of pack styles, such as: horizontal fill packages, horizontal zip pouches, pre-made bags, pillow bags, flat bottom bags, cans (401, 502, and 603), paper cups, bag-in-carton, pinch bottom bags, bulk bags, and totes.
"Someone brings an idea, and we offer a variety of solutions to what they can do with that idea," says Johnny Ferry, Vice President Marketing and Product Development. "For example, if they had a special family pancake mix and they wanted to spice it up somehow, we go back and sample it, and perform the necessary R&D work with them until we get it right. Then, when it comes to packaging, if they want it in a carton, cup, or can, we have the capability to do all that for them. We're really a one-stop shop when it comes to food formulation, blending, and packaging."
To package product, Honeyville uses nine Spee-Dee auger and cup fillers on its vertical and horizontal form/fill/seal machines, as well as its cupping and canning lines. After learning about Spee-Dee's filling capabilities in the food industry at a PMMI seminar, Richard Larsen, Honeyville's Vice President of Facilities, believed they would be a perfect Honeyville partner.
"As we discussed our numerous applications with them, we realized Spee-Dee would be a good fit for us," Larsen said. "They understood our industry and were able to guide us. We started out with the rotary cup fillers on our cupping line, and that was the first time I had any experience at all with rotary cup filling. It took a bit of convincing to do that type of volumetric filling, but after sending them more than 30 different products to test in their facility in Wisconsin, we saw the results and knew we were making the right choice."
Designed for integration
The Spee-Dee Servo auger and cup fillers purchased by Honeyville are designed to integrate with automatic equipment such as baggers, pouch machines, cartoners, conveyors, and vertical form/fill/seal systems. Spee-Dee fillers are engineered to fill various dry products, from free-flowing granular powder filling to non flowing powder-like substances.
One of the challenges Honeyville faces is that many of the products it blends and packages are small in quantity, such as 80 g. And often included within that 80-g mix are other ingredients, some of which are just a few grams that need to be blended in. Spee-Dee cup fillers work well for Honeyville because they are designed to fill very small particulates with high accuracy.
"We need to provide accuracy to our customers so they get consistent, uniform blended ingredients in their applications, and we don't want to short our customers or give away product; we have to protect the interest of the company," Larsen said. "And the Spee-Dee equipment gave us the ability to do that."
Since Honeyville is blending so many different ingredients together, it was important to properly test how the fillers would interact with those ingredients. Spee-Dee's testing lab at its Sturtevant, WI, headquarters includes a multiple in-feed system with horizontal in-feed screw bucket conveyors and a pneumatic conveyor. The objective is to learn exactly how the product is being fed into the machine, how it flows through the hopper and into the hopper. Using an in-feed system helps supply product to the hopper at a consistent rate, and keeps product at the same height and pressure in the hopper throughout the test. By feeding a steady stream of product into the hopper, Spee-Dee is able to perform longer test runs at actual speed to gain more reliable and accurate data.
Being able to fully test its products and determine accuracy rates prior to installation was a key factor for Honeyville's leadership in purchasing Spee-Dee fillers, which were specified through Todd Kasik of Packaging Equipment Solutions, a Redlands, CA, Spee-Dee distributor.
"With their testing they were able to basically guarantee the percentage of accuracy we were going to get with each ingredient," Larsen said. "It meant a lot to me that they had that level of testing capability. When I visited their plant, they gave me a team of four people and they did a lot of pre-testing ahead of time and had reports ready for me. They took me to their test facility and showed me the different applications and why we either could or could not achieve our goals and what challenges we would face."
Larsen said the addition of Spee-Dee fillers uniquely positions the company because no other West Coast supplier has the versatility in packaging that Honeyville now has.
"The thing I really enjoyed about Spee-Dee is that they took ownership with our company," he said. "They took an interest and were looking to design us equipment that would meet our applications. They weren't trying to sell us a filler just to make a sale. They wanted to make sure it would work in our application. And from our first discussions, to testing and installation, they were there for us. That says a lot about Spee-Dee."
Companies in this article