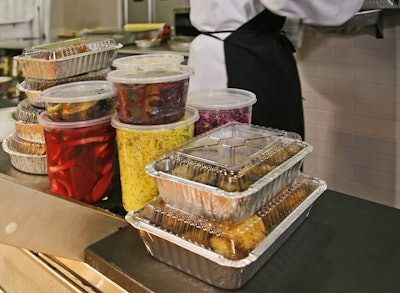 Demand for foodservice disposables in the U.S. is projected to increase 3.9% per year to $21.9 billion in 2019. Gains will be boosted by sustained revenue growth in the limited service restaurant segment, which accounts for about 80% of the total for disposables, despite representing only about half of overall restaurant revenues.
Packaging products, including clamshells, paperboard cartons, and other containers, are expected to register the fastest growth among the major product types. Value gains will be driven by green-minded replacement of foam clamshells with molded pulp containers and other sustainable alternatives. Specialty plastic containers will also post above-average growth due to increased takeout and catering services offered by full-service restaurants, which tend to use higher-value containers, especially in catering, where the appearance of the container can often be an important component in meal presentation.
Better growth for fast casual restaurant and coffee/snack shop revenues will boost demand for cups, dinnerware, and other products. "Meanwhile, growth in the quick service restaurant (QSR) segment—the largest single outlet for disposables—will be restrained by the shift in consumer preference away from traditional fast food," according to analyst Mike Richardson. These and other trends are presented in "Foodservice Disposables," a new study from The Freedonia Group, Inc.
Outside of restaurants, foodservice disposables are used in a variety of outlets. Prospects in these markets vary, but the best outlook will be for retail outlets, including grocery stores, warehouse clubs, and convenience stores. Retail stores will continue to expand their selections of prepared foods in order to better compete with restaurants that offer takeout meals. Convenience stores will continue to be a favorite destination for coffee and fountain drinks, although carbonated soft drink sales are expected to remain sluggish.
The 343-page Foodservice Disposable report is available for $5500 from The Freedonia Group, Inc. For further details, contact Corinne Gangloff by phone 440.684.9600 or e-mail [email protected].
Companies in this article