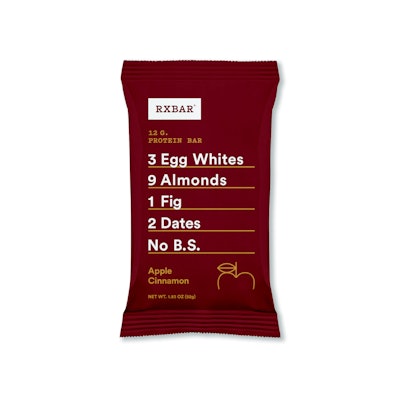 Since launching its line of protein bars in 2013, Chicago-based Chicago Bar Co. has taken what it calls a "No B.S." approach to its ingredient profile, using only whole foods, rather than manufactured protein, for nutrients and flavors. Now the company is bringing this strategy to the packaging for its RXBAR products, putting the ingredient list—and nothing else—front and center on the package.
"We've always been 100-percent committed to using only whole food ingredients in our bars," says co-founder Jared Smith. "Up until now, we listed those ingredients on the back of our wrappers like everybody else, like they're a secret. But we're not like everybody else. We don't have secrets. We're the only whole food protein bar out there—No B.S.—and we figured it's time we started saying that out loud."
Chicago Bar's previous packaging emphasized the product name, with the logo in large letters across the top, along with the tagline, "As Prescribed By Nature." In descending font sizes, the product variety and free-from attributes were listed. A photograph of a fruit, nut, or chocolate was positioned on the bottom right-hand side. Color bands on one side of the flow-wrap designated variety. On the back, a precursor to the new graphics approach, icons indicated the exact quantities of whole ingredients in the product. For example, listed on the Apple Cinnamon bar were "3 egg whites + 9 almonds + 2 dates + 1 fig."
Now, the packaging for that same bar dispenses with the logo- and image-centric design. Against a dark red background, the four whole food ingredients are listed vertically in white. The last item on the list says it all: "No B.S." At the top of the bar is a small logo, in all caps. In gold is the copy, "12 g. protein bar" and the variety name. A simple drawing of the top half of an apple completes the design.
The RXBAR line comprises seven varieties, each with their own background color, ingredient list, and line drawing.
In a promotional piece from Chicago Bar, the company outlines the key motivations for the new design: "We're celebrating our ingredients." "We're speaking with a more confident voice." "We're denouncing the conventional."
Remaining the same is the bar size, 1.83 oz, and the packaging materials, as detailed by Packaging World in January 2015.
According to Smith, Chicago Bar plans to roll out its new packaging in September, with products sold at Amazon.com, Protein Bar food chains, Treasure Island, Schnucks, Heinen's Grocery Store, Hy-Vee, and Wegmans.