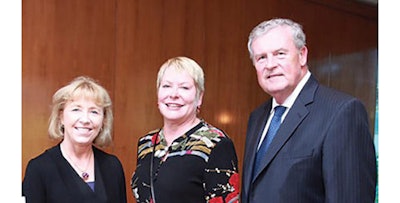 Three trade show leaders joined forces in September to announce the unveiling of a new event focused on processing technologies serving the food and beverage industry. PMMI, The Association for Packaging and Processing Technologies, Koelnmesse, and the International Dairy Foods Association (IDFA) will launch the inaugural ProFood Tech on April 4-6, 2017, at McCormick Place, in Chicago, Illinois.
Packaging World secured an exclusive interview with Charles D. Yuska, president and CEO, PMMI, for his thoughts on the new event, how it came to be, and what this means for the industry as a whole.
Packaging World:
Why the need for this event?
Charles D. Yuska:
In assessing the current trade show landscape, research told us there was a need for a dedicated event in North America that brings buyers together with leading worldwide manufacturers in the food and beverage industry. ProFood Tech provides a venue to share the latest innovations and crossover technologies from multiple vertical markets within the food and beverage industry and will be that one-stop-shop featuring exhibits from both large companies that serve several customer segments and smaller niche companies with focus on more specific needs. The new show will combine the unrivaled experience and recognition of PACK EXPO, Anuga, and IDFA to create an event that will be unprecedented in its ability to address all of the issues facing food and beverage processing operations in the North American marketplace like sustainability, improved operations, and food safety.
Could you tell us a little about Koelnmesse and IDFA?
Over a period of decades, Koelnmesse has established an excellent reputation worldwide as a trade show organizer, especially in the field of food products and food technology. Trade fairs such as the Anuga, the International Sweets & Biscuits Fair (ISM), and Anuga FoodTec are established world leaders and create a basis for sustainable and stable international business.
IDFA, composed of three constituent organizations: the Milk Industry Foundation (MIF), the National Cheese Institute (NCI), and the International Ice Cream Association (IICA), represents the nation's dairy manufacturing and marketing industries and their suppliers. Before this union, it hosted the International Dairy Show, which is ending in favor of becoming a part of ProFood Tech.
Why pick these partners?
Spending the last year getting to know the ins and outs of Koelnmesse and IDFA, the proper question might be, 'Why wouldn't PMMI pick these partners?' By partnering with two powerhouse trade show leaders with proven track records, ProFood Tech is operated by three of the world's trade show leaders. Koelnmesse organizes world renowned trade shows for the food and beverage industries as well as for the food and beverage processing industries, such as Anuga and Anuga FoodTec in Cologne, Germany. IDFA is North America's largest dairy association, representing more than 85 percent of all North American manufacturing of dairy products. Last but certainly not least, for more than half a century, PMMI has owned and produced the PACK EXPO portfolio of trade shows and represented North American manufacturers of equipment, components, and materials for processing and packaging.
Will it have an impact on PACK EXPO International or PACK EXPO Las Vegas? How will it fit into the PACK EXPO rotation?
ProFood Tech and PACK EXPO are two unique shows. PACK EXPO showcases packaging for all vertical industries while ProFood Tech will focus specifically on food and beverage processing. This will allow more exhibit space at PACK EXPO for packaging exhibitors while also allowing processing exhibitors to spread out their booths in size and scope at ProFood Tech. From a rotation standpoint, PACK EXPO will remain on the biannual schedule of PACK EXPO Las Vegas in the odd years and PACK EXPO International in the even years. Those shows will continue to be fall events while ProFood Tech is slated for Chicago in the spring.
How will ProFood Tech benefit exhibitors?
ProFood Tech provides both large and small suppliers the opportunity to build their businesses by breaking into new food and beverage markets, cementing their status as industry leaders, and reaching a large group of customers at one event. ProFood Tech will be an unparalleled exhibiting opportunity, as it is the only event of its scope in North America, includes buyers from every food and beverage sector, and offers 150,000 nsf for exhibiting companies of all sizes. The show is designed to showcase suppliers' latest technologies to thousands of North American food and beverage processors from sectors such as Baking & Snack, Beverage, Frozen/Prepared Foods, Dairy, and Meat/Poultry/Seafood. Whether they are small niche suppliers or large suppliers serving multiple market sectors, companies should exhibit at ProFood Tech. It provides an opportunity to build business.
What will ProFood Tech offer attendees?
Exponential changes in technology are making it hard for food and beverage companies to keep up. Attendees at ProFood Tech will find a wide perspective on the food and beverage processing industry as a whole and cutting edge solutions to the challenges the industry is facing every day on the plant floor. Our research indicated a desire from the North American food and beverage processing buyers for their own dedicated comprehensive event. They wanted a world-class event devoted to the latest innovations in their industry and cross-pollinating technologies from multiple vertical markets, all in one place. The food and beverage areas have a litany of niche markets that can learn from companies that typically serve the larger, more well-known markets, and vice versa. Finally, IDFA will produce a conference at ProFood Tech with a focus on food and beverage production. These will offer best practices, and with the Food Safety Modernization Act (FSMA) finally coming to fruition, important information for remaining complaint.
What will be the frequency and location of this event?
Starting in 2017, ProFood Tech will be a biannual spring show in Chicago.
As with all new endeavors, ProFood Tech will take collaboration, cooperation, and an entrepreneurial spirit to succeed. The joint efforts of PMMI, Koelnmesse, and IDFA clearly demonstrates a commitment from these three leading organizations in establishing a trusted brand in serving all food and beverage categories. PMMI is very excited to get in at the ground level by being involved in the first ever ProFood Tech.
Is ProFood Tech positioned as a regional event? National? International?
ProFood Tech will be an international event on par with PACK EXPO International and PACK EXPO Las Vegas. Together with Koelnmesse and IDFA, we aim to create a market platform in the United States tailored to the requirements of domestic and foreign exhibitors and visitors. With an expansive show floor, ProFood Tech will attract high-level buyers from every food and beverage sector around the world.
Companies in this article