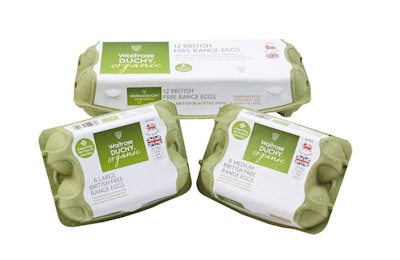 U.K. supermarket Waitrose has launched a new package made from made from equal amounts of ryegrass and recycled paper for its Waitrose Duchy Organic egg range. Waitrose predicts that the switch will save approximately 85 tons of wood/recycled paper per year. Although the technology is still very new, Waitrose says it plans extend the packaging to other egg boxes in the Waitrose range, which could result in a savings of 446 tons of wood/recycled paper per year.
While Waitrose makes its traditional egg boxes from 100% recycled pape​r, the new carton is constructed from 50% ryegrass and 50% recycled paper and can be recycled like a traditional egg box. Ryegrass is a renewable resource that grows quickly and is rapidly replenished. The ryegrass used for the Waitrose egg carton comes from unfertilized and untreated grass that has been mown in a special way to prevent sand and dust getting mixed in.
The new green-colored packaging protects its contents like a traditional egg box, but is said to use 60% less water during production and release 10% less CO2 compared to a standard pulp egg box.
Says Waitrose egg buyer, Frances Westerman, "We often take the humble egg box for granted as it reliably keeps your eggs intact until you're ready to crack them open. While we've found no better way for safely getting eggs to your kitchen table, we're always looking at ways we can use less packaging and more sustainable materials to ensure that we minimize our impact on the environment."