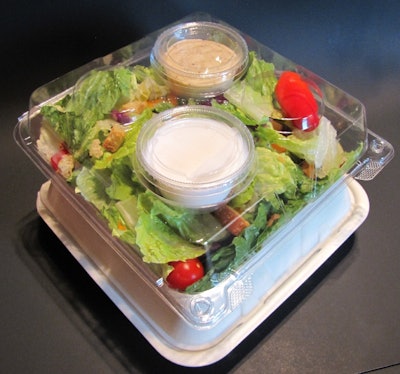 Go To Containers announces the launch of a revolutionary new product line in response to consumer demand for improved takeout packaging. The company's first product, the Sani-Stak container, is a patented and unique container that addresses challenges faced by takeout, such as reducing the incidences of foodborne illnesses, reducing chances of contamination of food from allergens, making meals easier to transport, keeping food crisper, and simply providing a better overall presentation to the diner.
Sani-Stak containers promote customer satisfaction and give food service operators an edge in the market place. According toBusiness Insider, Americans spend $70 billion a year on takeout with 60% of Americans ordering food for takeout or delivery at least once a week. The market has become highly competitive with food service operators looking for an edge over their competitors. Restaurant News suggests that "innovative designs in to-go containers can create not only a better consumer takeout experience, but an overall better dining experience."
How do Go To Containers' Sani-Stak products improve the takeout experience? Well, typically, soufflé cups with dressings or condiments are placed inside a takeout container with a salad, appetizer, or meal. This is a common practice, but not the best choice when considering food safety. The goal was to design a takeout container that would give restaurants another option without the increased expense of having to bag multiple items. The Sani-Stak container was created to:
Allow portion cups ranging from 1 to 3.25 oz. to securely nest on top of the container and separate from the meal.
Allow for two or more containers to stack and nest on top of each other, preventing them from sliding.
Allow containers made for either hot or cold meals to be used together and stacked on top of each other.
Allow for fried foods such as wings and fries to remain crisper compared to other takeout packaging.
With the increase in foodborne illnesses and food allergies, this new concept in takeout packaging is significant. Knowing the path a portion cup takes during the storage and prep phase prior to being placed in with the meal, it is easy to see that the cup has multiple chances of becoming contaminated or coming in contact with food allergens along the way. Equally, when preparing a salad at a salad bar, there is really no way of knowing what may have come into contact with the cup prior to placing it in the container with your meal.
Keeping condiment cups separate from the meal is not only safer, but it provides several other benefits: No more melting condiment cups in with a hot meal, no more cold condiments getting warm, no more condiments ending up on the floor of the car, and no more extra bags to carry.
Sani-Stak containers will initially be available in two eco-friendly materials, PET and bagasse (sugarcane), which offers an option for hot and cold items. Various other designs and materials are in the works with custom designs available.
Companies in this article