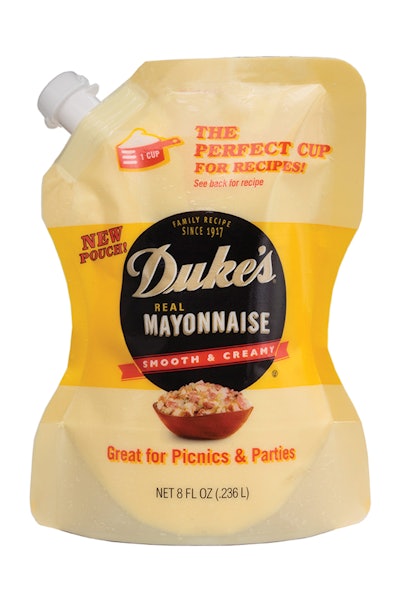 Duke's brand mayonnaise from Richmond, VA-based C.F. Sauer is now reaching store shelves in a spouted pouch format that's quite unusual for the category. The debut is also notable for the secondary packaging involved, which is about as retail-ready as it gets.
"I'd been looking at flexible pouches for some time now," says Cecilia Brock, Corporate Packaging Engineer at Sauer. "Then one of our sales guys got in a conversation about pouches with a flexible film supplier, though initially the idea was to try it for certain export markets. But as we got further into it, we thought why not launch something domestically with our Duke's brand that would be new and exciting in a category that hasn't seen a lot of packaging innovation lately. I know other countries have this format for mayonnaise, but we're the first in the U.S., which is very exciting. It's a great addition to the existing Duke's product line." That line, she adds, includes single-serve pouches and PET bottles in a variety of sizes and styles as well as bag-in-box and 4-gal pail formats for institutional customers.
"The goal for this pouch was to revolutionize packaging in the mayonnaise category, bringing consumers greater convenience and ease of dispensing as well as one-cup recipes for delicious meals, desserts, and tailgating snack preparation," says Erin Hatcher, Director of Marketing at Sauer.
The flexible film supplier Brock mentions, Ampac, became the supplier of the rollstock used by Sauer for its novel package. The horizontal form/fill/seal machine it's fed into comes out of Spain's Mespack, which is represented in North America by AlliedFlex Technologies, Inc. Ampac doesn't identify exactly what the multilayer barrier structure is, other than to say it's an ultra-high-barrier lamination that includes polyester among its layers. Brock describes it as being flexo printed in 10 colors and having a total thickness in the range of 6 mils. This, she is the first to admit, is "very robust"—perhaps even a little too robust. But that happened largely by design.
"We'd never done a stand-up pouch before, and this is our flagship brand we're talking about," she says. "We wanted nothing to go wrong and no questions asked about leakers or shelf life once it got out to the market. There's always time to optimize a structure like this, and in fact we have some tests underway now."
Recipe tie-in
As for why Sauer settled on 8 oz as the amount of product each pouch would contain, it's because that's exactly one cup. "Marketing decided to launch with the 1-cup size and designed recipes around the full use of the 1-cup pouch," says Brock. "Recipes printed on the back will be rotated to keep the package interesting and to provide added benefit for consumers. The Mespack machine can do other sizes easily enough, but we'll have to see how this first effort goes before thinking about other package sizes." The Mespack pouching system is already configured to produce a 16-oz pack.
The other key component in the 8-oz package is the injection-molded high-density polyethylene dispensing fitment with its hinged lock-back cap. Because the convenient, single-piece FlexFit closure from Westrock is attached to the spout by its hinge, it means consumers never have to play hide and seek trying to find it. The fitment dispenses product in a ribbon-shaped pattern that Brock finds pleasing because the product spreads out a little rather than being confined by a conventional round orifice. The fitment also has a Top Tab two-piece induction sealed liner from Selig. Measuring just under a half inch in diameter, the seal includes an easy-open half-moon tab for consumer convenience in opening.
Brock says premade pouches were considered in initial discussions. But after evaluating long-term goals, costs, and payback on the capital investment involved, the firm opted for a roll-fed horizontal form/fill/seal Mespack system. It operates in Sauer's Kansas City plant.
"We looked at several pouching systems," says Brock. "But the Mespack system really stood out. We also liked that Mespack had already supplied a number of machines to packagers of mayonnaise. That plus they have a great reputation."
A duplex system that produces pouches two at a time, the Mespack H320 machine is capable of 110 pouches/min. A Butler automatic splicing system is part of the package, which is common enough these days because it greatly simplifies and accelerates the process of bringing in a fresh roll of pouch material. What's notable in this case, however, is that, thanks to a special Mespack/Butler licensing agreement, the splicing module is integrated right into the Mespack machine.
"It's a significant advantage being able to avoid having to place a full stand-alone splicing system ahead of the pouching machine," says Dennis Calamusa of AlliedFlex. "Certain redundancies are avoided, yet the splicing capability is every bit as functional."
Hole punch
In the unwind stand of the Mespack system, a Videojet Excel 170i ink-jet unit puts best-by date and production code information on the part of the film that later becomes the top back of the pouch. Holes are punched in the film that come into play later in the pouch-forming process; without these holes, the bottom gusset that gives the pouch its stand up feature would not be possible. A registration control system relies on eye marks on the film to make sure the holes are punched accurately. Then the material goes over a forming plow to form the bottom gusset. This plow is governed by a linear servo motor that makes changeover from one pouch size to another extremely easy, says Calamusa.
The next sequence of operations revolves around bag-making. Sauer personnel can access the HMI and adjust the entire gang of side seal bars without stopping the machine. "It's all mounted on a motorized screw shaft, so you can move the seal bars by millimeters one way or another if need be," says Calamusa. "It comes in handy when you've got 50 or 60 feet of film stretched out that you have to control, because there could be film stretch that needs to be accounted for. That's what this does."
Shortly after the side seals are made the pouch material runs through cutting tools that let Sauer give their pouch the attractive, curvy shape that it has. Then the formed pouches are transferred from the bag-making section into the mechanical grippers of the walking beam that takes them through filling and top-sealing. But before filling is a station where the corner of each pouch is cut so the spout can be inserted and heat sealed in place. Then it's on to filling. A series of sensors ensures that the pouch is fully opened at the top and that the gusset at the bottom is open, too. If either top or bottom is not looking good, the machine controller sends a no-fill signal for that pouch. Finally, the filled pouches pass through a heat-and-cool top-seal station and drop out of the machine.
Secondary packaging
Adjacent to the pouch forming and filling operation is an equally impressive array of secondary packaging machines, most of them supplied by Delkor. The patented and patent-pending Cabrio Case® itself is also a Delkor invention. It's based on a conventional flange-seal case that is formed with angled flaps to create a display that is open at the front with a higher wall at the back. Precuts on the front and sides of the case allow easy tear-away of the case top by in-store personnel, who do not need to use sharp blades or other tools that so often wind up damaging the primary packs inside a case. Finally, the Cabrio case has no perforations around the corners that could compromise its structural integrity.
The single-wall C-flute corrugated cases are rated 32-ECT and are supplied by International Paper. They're automatically erected by a Delkor Trayfecta former and then conveyed to a manual loading station where operators put six pouches into each case.
"We selected the Delkor Cabrio case as our secondary package because it protects the pouches so well in distribution and also gives us a retail-ready package once we reach the store," says Brock. "The Cabrio case is top-loaded and the pouches lie flat during distribution. By orienting the case on its end during warehousing and distribution you take advantage of all the corner strength the case can provide. We worked closely with Delkor and International Paper to make sure the cutouts and perforations that make it easy for store personnel to open the case and display the pouches didn't compromise performance in transit. As you can imagine, the pouches can't take much weight. And they don't have to thanks to the case being oriented on-end the way it is."
Sauer also opted to install a Delkor Capstone F-550 case closer, which applies hot melt adhesive to close the cases. When asked why insertion of pouches into cases is done manually, Brock says it's primarily because the novel package is still in its roll-out phase.
"When a new package rolls out it takes time for some retailers to rearrange their planograms to accommodate it," says Brock. "So we're not even running at full capacity yet. Once we ramp up production numbers, the line is designed so that we can easily add a Delkor case packer."
A Pilot Pro ink jet system from Squid Ink puts lot and date code information on two sides of each case. One additional piece of Delkor equipment installed in the line is a Cabrio Case Combiner. It puts a bead of hot-melt adhesive on the tear-off hood portion of each case and then pushes two cases together. They come out of the combiner as a 12-count case, but in the store an operator can pull off two hoods at once.
The pouch was launched in July of this year, and feedback from consumers, says Brock, has been "extremely positive." When asked for some comparisons between the pouch and the 8-oz PET bottle that Sauer fills, Brock says the pouch costs "slightly more." That upcharge is partially offset by a savings on the freight and storage of incoming rollstock material; added savings come with the pouch because it doesn't need any labels. One roll of film has more than 11,000 pouch impressions, says Brock, and it would take 35 boxes of bottles to equal the number of pouches produced from one roll of film. There are 4,000 pouch fitments per box vs. 1,700 of the 53-mm caps used on the PET bottle. On a head-to-head comparison of package weights, the 8-oz pouch is 0.0334 lb lighter than the 8-oz PET container. But while the bottles are filled at 150/min, pouches top out at about 110/min.
One thing Brock is reluctant to do is claim that the pouch is more sustainable than an 8-oz PET bottle. But then, getting "greener" wasn't really the objective in the first place. Delighting the consumer was.
"Everything we do is consumer driven," concludes Brock.
Companies in this article