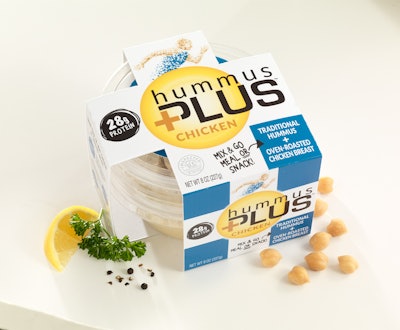 Taking traditional hummus dip to a new level, Elk Grove Village, IL-based Hummus Plus, LLC has introduced a dip-plus-chicken product that can serve as either a snack or a "mix-and-go" meal. Packaged in two custom containers with a napkin and spork, held together with a plus-shaped paperboard sleeve, Hummus Plus in five varieties is designed to provide the consumer with everything needed to enjoy a healthy, Mediterranean-inspired meal on the go.
According to David Gacom, Vice President, Sales and Marketing for Hummus Plus, A Pure Mediterranean Foods Company, the inspiration for the product came from a convergence of consumer trends. Among them, consumer acceptance of new, fast casual Mediterranean restaurants serving high-quality, less-processed, fresh food. "Think Chipotle-style format," with a range of ingredients to choose from, "but for Mediterranean," Gacom says.
Other trends cited by Gacom include the expansion of products in the perimeter of the grocery store, with consumers seeking out fresher, refrigerated foods, and the tremendous growth of the hummus category—Gacom cites a CAGR of 15%-plus over the last five years.
"We acknowledged this convergence and created a retail offering that pairs hummus and chicken for a fast casual meal on the go that's healthy, convenient, and high in protein, and can be found in the grocery store," says Gacom. "That's never been done before." Unlike its competitors in the hummus category, Pure Mediterranean operates a USDA-certified facility that can handle both hummus and meat.
To create a package structure and graphics for Hummus Plus, the company worked with brand strategist Design Partners. Key to the functionality of the package is the flexibility it provides consumers to eat the product where and how they want. The two clear polypropylene containers with lids from EasyPak LLC are microwavable, allowing the ingredients to be warmed for consumption; the shape and size of the bowls allow both the hummus and chicken to be mixed in one container for eating; and the inclusion of the napkin and spork mean the product is ready to eat anytime anywhere. In addition, the bowls are resealable and dishwasher-safe.
Having an ownable structure that would differentiate Hummus Plus was also important to the company. "When you look at a hummus set or even an on-the-go set, you typically just have a container with a label. We wanted to create an architecture that projects what we are as a brand," says Gacom. With a plus-shaped 22-pt SBS outer sleeve converted by Graphic Packaging Intl., Hummus Plus brings home the "plus" proposition of the product in a unique way that also allows visibility of the food inside the bowls.
As for graphics, Hummus Plus eschews traditional Mediterranean-style fonts and images, instead playing up the active-lifestyle, high-energy aspects of the product. In the center of the sleeve is a yellow sun orb; above is the image of a runner, made from tiny, colored pluses. "The idea is that protein gives you energy," says Gacom. "With up to 28 grams of protein, this is an incredibly high-protein product."
While the background of the sleeve is white, conveying a fresher, less-processed, product, each of the five product varieties uses a different color palette for differentiation.
Hummus Plus was introduced in March 2015 and is now offered in 3,500 retail stores nationwide. Two sizes are available: a 6-oz (4 oz hummus/2 oz chicken) and an 8-oz (6 oz hummus/2 oz chicken) version, for a suggested retail price of $4.99 and $5.49, respectively.
Companies in this article