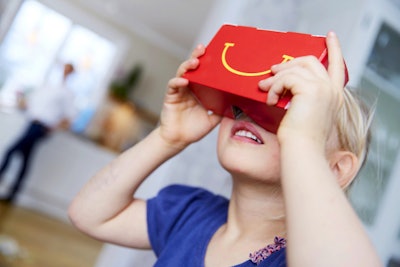 By re-folding the Happy Meal box, customers can create a pair of Virtual-Reality glasses that make it possible to experience Virtual Reality with a smartphone. McDonald's continually tests new ideas and, with Happy Goggles, Virtual Reality (VR) becomes available to everyone. Happy Goggles are a test designed to modernize the Happy Meal and provide a digital experience in addition to the physical toys usually found in the box.
The Happy Meal is one of the world's most iconic boxes. Ever since the Happy Meal came to Sweden in 1986, it has been a natural choice for families with children visiting McDonald's. McDonald's Sweden is first in the world to develop the Happy Meal box into Virtual Reality goggles and the idea came about, quite simply, by folding the usual Happy Meal box in a new way. The result, with the addition of a pair of lenses, turned into the VR Happy Goggles.
When combined with a smartphone, the Happy Goggles lower the threshold so that everybody can afford to experience VR. Together with the Happy Goggles McDonald's is also launching a VR skiing game "SlopeStars," a 360° ski experience allowing the user to open the doors to a world of fantasy, fun and how to stay safe on the ski slopes. The game is endorsed by the Swedish National Ski Team and will be available from Friday, March 4th, and can be found on www.happygoggles.se/en/.
"We want to continue being the best family restaurant in Sweden," says Jeff Jackett, Marketing Director at McDonald's Sweden.T"he Happy Meal is one of our most beloved menu items, and therefore an appropriate platform for reaching out to our family customers through experiences that focus on play and learning. We believe that many people will enjoy the fun skiing game with the new Happy Goggles."