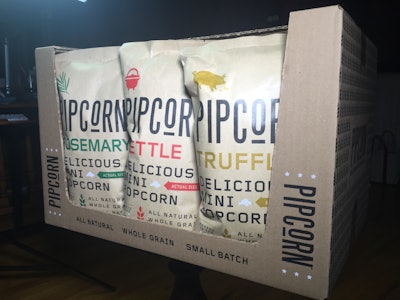 When brother-sister team Jeff and Jen Martin founded their company in 2012, they had no idea they were about to embark on a wild success story with Pipcorn, their innovative mini-popcorn product. Not only is the product unique in terms of its small size—the popped morsels are about half as large as traditional popcorn—but it is also all-natural, gluten-free, whole grain, and vegan. However, despite the fact that the product hit on all the right consumer trends, it's no easy feat for a newcomer to break into the crowded snack space.
Pipcorn's first break came in 2013, when Jeff and Jen were offered the opportunity to feature Pipcorn at the Smorgasburg Snack Bar in Whole Foods Market's Bowery location in New York City. To maximize the opportunity, they realized it would be best to "make their own shelf space"—to get their bags into boxes that could be displayed on the floor, rather than on the shelf. With no immediate solution at hand, the Whole Foods offer was an ideal opportunity with a less-than-ideal expense and time crunch.
Brother and sister got to work quickly; quite literally, they flipped out. They went into a handful of stores and started flipping boxes so they could read the fine print to see where the boxes were manufactured. At this "box-flipping" stage of their admittedly less-than-scientific process, the Brooklyn-based duo was considering one factor over others: "Proximity," says Jen Martin. "We had one shot at this, and we wanted a boxmaking partner we could physically see and touch before signing on the dotted line."
After a few frantic flips they found a relative neighbor: POP display and packaging converter Sutherland Packaging, located in Andover, NJ. Days later, Jeff and Jen were press-side at Sutherland to personally sign-off on the job.
Direct-to-corrugated print saves time, money
Time was of the essence, so Sutherland got to work immediately on graphics and a retail-ready display case for Pipcorn. Utilizing its direct-to-corrugated color print technology, Sutherland created an attractive and sturdy case with graphics that align with the brand message. "Jeff and Jen chose a two-color print on the kraft-brown display box," says Shelly Kowalski, Sales Executive for Sutherland. "The dark brown [type] and white [graphics] on kraft create an appealing 'natural' look."
According to Jeff and Jen, this solution showed them that Sutherland understood the Pipcorn brand, as the design would clearly help them maintain the "earthy tone" they were seeking for their product packaging.
"We knew we had the right partner in Sutherland from the moment we started working with them," says Jen Martin. "We were sold by their genuine interest in helping us 'grow the brand up,' and by the overall innovation and efficiency of Sutherland's operation."
Like any new company, Pipcorn had a tight budget. Another advantage Sutherland was able to offer Pipcorn was the reduced cost associated with direct-to-corrugated flexo printing through the use of its Apstar HG flexo printer and die cutter manufactured by Dong Fang Precision.
The 66 x 126-in. flexo press prints up to five colors with a screen resolution from 65 to 85 lpi (lines/in.), on corrugated material with the linerboard already attached. This process eliminates the need for a lithographic label, saving both material costs and the time and effort to apply the label, which improves speed to market.
According to Sutherland, the ability to forgo label printing also allows customers to quickly recoup their initial short-term investment in flexo plates. By greatly reducing seams, stitching, and gluing, the customer also achieves lower production costs while eliminating in-store assembly complications.
The display shippers created for Pipcorn are constructed with a tear-away window that can be easily removed to display the bags of snacks. The boxes are stacked on the retail floor to create towers of Pipcorn products.
Success comes quickly
Shortly after their foray into the Bowery Whole Foods Market location, Jeff and Jen were offered the opportunity to display in Whole Foods Market's location in Midtown Manhattan's Columbus Circle, as well as several other stores up and down the East Coast. An even bigger break followed. In late 2014, Jeff and Jen appeared on reality TV show Shark Tank, with Pipcorn prominently displayed in the Sutherland-produced retail-ready display case. After a successful presentation, investor Barbra Corcoran offered Jeff and Jen a $200,000 investment in exchange for a 10% stake of the company and a 10% draw from the Martin's salaries.
Just three months later, Pipcorn sales reached $1.1 million, up from $200,000 prior to the Shark Tank appearance. The product is now sold in 2,000 stores throughout New York, New Jersey, Connecticut, Washington, DC, and Virginia, with the expectation of a New England presence in the near future.
This success has brought new demands to both Pipcorn and Sutherland. Luckily, Jeff and Jen say that whenever they have presented their latest challenge to the team at Sutherland, the company has come up with a creative response almost immediately.
Says Eric Stanton, Senior Sales Manager for Sutherland, "We always go out of our way to come up with innovative solutions to our customer's dilemmas. For instance, when Pipcorn approached us with the desire to come up with differentiated packaging for the holidays, we developed a four-pack carrying case that contains one bag of each hand-flavored variety. The product is apparently flying off the shelves, and we couldn't be happier."
Companies in this article