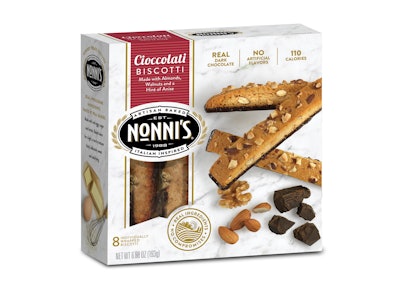 North American biscotti baker Nonni's Foods has introduced new packaging for its Biscotti grocery store packs. Says Nonni's, the enhanced design highlights the real, wholesome ingredients baked into each artisan Italian-inspired baked treat.
Quality ingredients are at the core of Nonni's Biscotti, and the new packaging design more prominently displays them through vibrant imagery of fresh almonds and walnuts, decadent dark chocolate, and real caramel and toffee bits, among others. Calorie information and mentions of key ingredients are now located at the top of each box so consumers are able to easily make informed purchasing decisions. The addition of transparent window cutouts to the front of each box are designed so consumers can see the Biscotti's real ingredients, crunchy texture, and individually wrapped, portion-controlled packs that seal freshness and maintain the highest quality flavor.
Nonni's new Biscotti packaging highlights premium quality ingredients and its artisanal roots with an updated logo and includes Nonni's story on the back of each box. The logo features the year, 1988, when the company's founder first opened his bakery and includes the phrases "artisan baked" and "Italian inspired" to signify the family recipe traced back almost a century ago to Lucca, Italy, a place that still inspires today's bakers.
"At Nonni's, we are proud to offer consumers a Biscotti they can feel good about eating, made with no artificial flavors or preservatives," says Patricia Bridges, Senior Brand Marketing Manager. "This new design showcases our devotion to quality and includes Nonni's new tagline, 'Real Ingredients, No Compromises.' We are thrilled that the new 2016 packaging tells our story and provides consumers with clear information about our ingredients."
Every box of Nonni's Biscotti contains eight individually wrapped biscotti, available for a suggested retail price of $3.59 at select grocery stores, and larger pack sizes at club store retailers nationwide. New packaging is available in all of Nonni's Biscotti grocery pack flavors, including Originali, Salted Caramel, Cioccolati, Dark Chocolate Almond, Limone, Toffee Almond, Triple Chocolate, and Turtle Pecan.