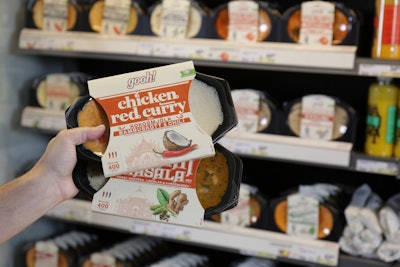 Now they're first again, launching new premium recipes in a two-compartment tray. (For details on the first launch, see http://www.packworld.com/package-feature/shelf-life/microwave-pasteurization-puts-ready-meals-where-consumers-want-them)
There will be two new recipes, Chicken Red Curry and Chicken Garam Masala, and the products became available in the shops in Sweden from 11th April.
"We're very happy to be able to launch this new range of products on the Swedish market," says Anna Barrner, Nordic Marketing & Innovation Manager – Ready To Eat at Lantmännen. "These new recipes reflect our wish always to serve the best quality and taste, but it also provides a new eating experience as the rice and chicken are separated in two compartments. We know that consumers request this kind of meal."
"It all started with Stefano Catenacci, the chef of the restaurant Operakällaren, who wanted to offer ready meals with restaurant quality. Gooh belongs to the Lantmännen Group, which gives the company strength and stability. We're very much looking forward to seeing how consumers receive the new two-compartment recipes," says Christina Frohm Kramer, Marketing & Regional Sales Director at Micvac.
The two-compartment tray has been under development at Micvac for some time. Different versions have been tried out to ensure the functionality of the tray and the valve in combination with the Micvac microwave pasteurization method.
"One of the issues was to be able to use only one valve," explains Fredrik Larsson, Technical Director at Micvac. "This has now been solved, and when the whistling valve lets the consumer know that the meal is ready to eat, the temperature is even in both compartments."
Most Micvac customers continue to use the more established oval-shaped Micvac Flextray, but recently products have also been launched in various round trays. On top of that, there is also the possibility to use pouches and thermoformed packaging with the unique Micvac method.
Companies in this article