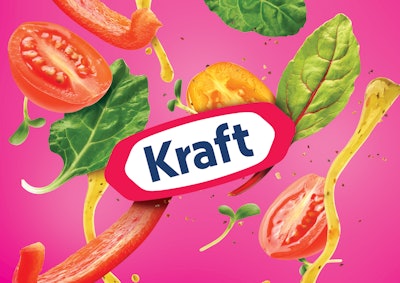 Filling the gap in the salad dressing market between a foodservice sachet and a full-size bottle for retail is a shapely new two-servings-plus pouch from The Kraft Heinz Co. that is commanding attention on shelf with its unique format and vibrant graphics. Introduced in early 2016, the stand-up pouch for Kraft Anytime! Anywhere! is portable and resealable, offering consumers the ability to tailor their salads on-the-go.
"We saw several trends that pointed to the need for a more portable and differentiated format," explains Lindsey Walter, Brand Manager for Kraft Heinz. "First, packaged salads and kits, which offer a convenient and customizable experience, are growing, while shelf-stable dressing has not kept pace. Second, main-dish salads are growing, especially at the lunchtime occasion. Consumers had expressed frustration about a lack of convenient, portable options and were dealing with soggy salads or even lugging a 16-ounce bottle with them. Lastly, our consumers are looking to mix up their salad routine and explore a variety of flavors"
The 3.2-oz pouch from Bemis has an hourglass shape suggestive of the Kraft Heinz dressing bottle, and is constructed of a proprietary, four-layer, foil-based film that provides the necessary barrier protection, compatibility with filling equipment, and printability. Following consumer studies by Kraft Heinz to gauge feedback on the concept, Bemis gathered together all the project stakeholders in early 2015 for a two-day session to develop workable pouch prototypes.
Explains Bemis Senior Business Development Manager Margaret Martins, "We held the session at the Bemis Innovation Center in Neenah, Wisconsin, where we worked with the stakeholders to identify a shape that would achieve their goal of setting it apart from other pouch formats in the market, such as baby foods and applesauce, for example, and making sure it would resonate as a shape that falls within the dressing category."
Stakeholders also considered such issues as pouch compatibility with manufacturing and filling operations, shelf set and size, fitment options, hand-feel, the Kraft Heinz timeline, and other requirements.
Once the structure was selected, Kraft Heinz worked with design agency Bulletproof to create package graphics for the pouch that would "showcase the excitement that comes with the unique pouch format, while leveraging key Kraft equities," Walter says.
For design inspiration, Bulletproof says the team hit the streets of New York City on a "salad safari," from which a common theme emerged: "the delicious, dynamic flavor possibilities a dressing and a little creativity can inspire."
The core idea of the final design, "Salad Comes to Life," is executed on the pouch with images of "beautiful, fresh ingredients tossed together with dynamic drizzles of delicious Kraft Salad Dressing," says Bulletproof. "It's a feast for the eyes that demands attention at shelf and establishes trust in the Kraft brand with generations of salad fanatics."
The colorful images of ingredients—specific to each of the line's five product varieties—as well as the Kraft logo are positioned against a crisp, white background. The pouch is gravure-printed in six colors and is topped with a high-density polyethylene spout and cap from a proprietary supplier.
Kraft Anytime! Anywhere! was launched in March 2016 and is available at retailers nationally.
Companies in this article