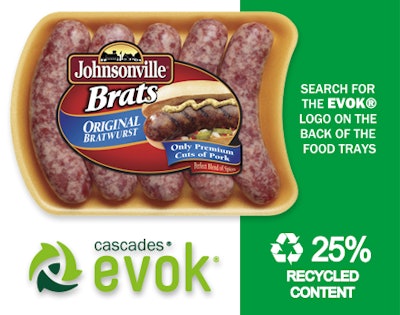 Johnsonville Sausage has switched to a polystyrene foam tray that contains 25% recycled material for its fresh sausage products sold in retail stores. Packaging supplier Cascades created the tray material, EVOK®, which the company says is the first-ever North American fresh meat PS foam tray with 25% recycled material. Johnsonville will be the first national branded sausage leader to use EVOK packaging manufactured in the U.S. EVOK was introduced in Canada in 2013.
By integrating this recycled material into the Johnsonville trays used for its fresh sausage products, the company estimates it will reduce its greenhouse gas emissions by 15%. Johnsonville will use EVOK packaging on all of its fresh meats, including Fresh Bratwurst; Fresh Italian Links and Ground Sausages; Johnsonville Naturals; Breakfast Patties and Links; Fresh Grillers; and its new Chicken Kabobs.
This latest packaging change is one of several improvements Johnsonville has made within its operations to minimize its environmental impact. "Our members (employees) are empowered to propose and implement continuous improvement initiatives across many areas of our organization, and we're always excited to see these ideas come to light," says Dave Nicholson, of Johnsonville's R&D Department. "Many passionate Johnsonville members have implemented such improvements that have significantly reduced our waste, energy, and water use."
The other most notable packaging projects include a recycle and reuse program with Johnsonville's zipper-spool vendor, and a change in the shape of some of its PS foam trays. The zipper-spool recycle and reuse program allows Johnsonville to return the high-impact PS "spool" that holds the zipper-lock material that Johnsonville uses in its smoked-cooked sausage products. The impact of this program has resulted in 50,000 pounds kept from being disposed in a landfill.
In 2010, Johnsonville transitioned from a full rectangular-shaped PS tray from Cascades for its fresh bratwurst and Italian sausages, to a tray that contours along one side to mimic the shape of the dinner sausages, resulting in 6% less packaging being used in each tray. To date, this packaging size reduction effort has resulted in an annual decrease of 120,000 pounds of material waste.