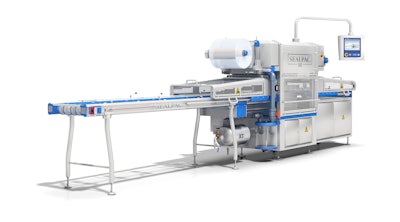 In virtually all food categories today, consumer trends toward clean-label products, convenience, a reduction in food waste, food safety, and sustainability are driving new technologies in ingredient formulation and complementary food processing and packaging solutions. At IFFA 2016, held May 7-12 in Frankfurt, Germany, more than 1,000 exhibitors came together to showcase solutions for the safe, efficient, and economic production of meat and meat products. A triennial event, IFFA is the world's leading international trade fair for the meat industry. This year's event drew more than 63,000 visitors from 143 countries.
IFFA 2016 covered 11 halls, two of which focused on packaging machinery and materials. Much of the machinery dealt with primary packaging operations: MAP, horizontal and vertical f/f/s, thermoforming, vacuum packaging, and tray sealing. Materials suppliers focused on rigid and flexible films, and labels.
VSP 'is the overall trend'
One technology that seemed to dominate was Vacuum Skin Packaging (VSP) with thermoformed trays. While not new, the format has recently become more popular in Europe and is growing in the U.S. as well. VSP meets nearly all of today's consumer trends. Removing the oxygen from the package via vacuum, VSP eliminates the need for preservatives and extends shelf life—up to three to four weeks, versus seven for MAP—which can significantly reduce food waste. Shrinking securely around the product, VSP also provides great shelf impact, resulting in a 3D effect and allowing the product to stand upright in the refrigerated case or hang on a peg.
"Convenience is another consumer trend," explained Marcel Veenstra, Marketing & Communications Manager for Sealpac Intl. "People today don't have time to cook. With skin packaging, you can place the product right in the microwave. For venting, there are many solutions. Regarding food safety, you never have to touch the food."
VSP thermoforming technology can also decrease material use for packagers—a factor that Veenstra said is driving the popularity of skin packaging in the U.K.
At IFFA, Sealpac demonstrated its SEALPAC A6 tray sealer, a fully automatic, modular machine that seals up to 90 trays/min and can handle a variety of tray shapes and sizes, as well as sealable materials. One of the formats produced by the machine is Sealpac's TraySkin® package. During the packaging process, SEALPAC's OnTrayCut system produces a precise film cut for attractive packaging with easy opening functionality. TraySkin packs are available for products with up to a 90-mm protrusion.
Sealpac also unveiled the PRO-series line of modular thermoformers: the PRO10 for companies just starting out, and the PRO14 for high-output operations. The machines are characterized by flexibility, with a 460-mm film width allowing for a range of packaging formats. The PRO14 can handle flexible film vacuum packaging, rigid film MAP, and Sealpac's ShrinkStyle® application, which combines a thermoformed bottom film with the company's shrink-bag technology. Applications for the PRO-series include meat, seafood, potatoes, snacks, and bakery products. ShrinkStyle can package both fresh meat and cheese as well as processed meat and poultry.
"Machines today have to be flexible to accommodate different package types," added Veenstra. "With the PRO-series, you just have to change the tooling. It takes five to 10 minutes to change over."
At the Bemis Packaging UK booth, complementary VSP film was on display. The Bemis SkinTite™ system can be used for thermoforming and tray-sealing applications for chilled or frozen ready meals, meat, fish, and poultry. According to Pete Roberts, Technical & Business Development Manager for Bemis, the company offers PE-based films designed with a range of sealant blends to seal to different tray types, including polyethylene, polypropylene, PET, and aluminum. For those applications requiring high protrusion—a roast, for example—Bemis can provide film with the required stretch.
At Schur Flexibles, the company was exhibiting a VSP tray pack for octopus from Foncasal of Spain. Rather than using an APET tray, the package uses a 600-micron PP thermoformed film tray, with an ethyl vinyl alcohol shrink film on top. According to a representative at Shur, the PP allows the product to be microwaved, while the shrink format provides a more attractive product on shelf. "More customers are looking for this," he said.
At the Variovac booth, it was all about thermoforming and tray sealing. The company's Optimus thermoformer, which uses Variovac's RAPIDAIRSYSTEM® for improved forming, sealing, and cutting, accommodates both flexible and semi-rigid films and produces formats that include MAP, skin, and vacuum packaging. At the show, Variovac was introducing new features for the Optimus, including the ability to accommodate VSP product protrusion up to 25 mm, and a new labeling module.
Variovac's Primus, a smaller version of the Optimus that can be modified with additional devices, is said to achieve up to 60% higher output than conventional systems through the use of the RAPIDAIRSYSTEM. According to Monique Heiden, Marketing for Variovac, "No other machine has such a fast speed with a transport belt that's easy to remove for cleaning, keeping production going."
Also on display was Variovac's new semi-automatic Rotarius VG, a skin version of its Rotarius tray sealer, designed for small products. The machine can seal trays made from PP, PET, polystyrene, aluminum, and laminated paperboard, and operates at speeds from 4 to 8 cycles/min.
WEBOMATIC, a provider of tray sealers, thermoformers, and vacuum packaging machines, also presented a new tray-sealing machine: the fully automatic TL 750, which can produce skin or MAP packaging with the same tool. Explained Nathalie Bonk, Marketing for WEBOMATIC, changes are made through the PLC. The only manual changes involve film and trays. The machine features Single Cavity Control whereby eight sealing plates are controlled separately, so if there is a disturbance with one, production on the others will continue. Said to be the smallest of its kind, measuring 800 W x 800 D x1710 H mm (2.6 x 2.6 x 5.6 ft), the machine is available in a single- or dual-lane version and can handle small products and quantities, as well as large, bulk products.
"Skin packaging is the overall trend right now," said Bonk. This is where we get the most positive feedback from Western countries."
Staying fresh with HPP and microwave pasteurization
As the rise of VSP shows, packaging that eliminates the need for preservatives and enhances shelf life is becoming increasingly important. On the processing side, several IFFA exhibitors showed in-pack pasteurization technologies that preserve the integrity of product nutrients, eliminate the need for preservatives, and offer an extended shelf life.
Among them, Avure and Hiperbaric exhibited their High Pressure Processing (HPP) machines at the show. HPP is a cold pasteurization technique by which product sealed in its primary packaging is subjected to a high level of isostatic pressure transmitted by water. HPP inactivates bacteria, yeasts, parasites, and molds in food in much the same way that thermal processing methods like retorting or aseptic processing do, but without the negative impact on flavor and nutritional properties associated with these technologies.
According to Lisa Pitzer, Marketing Director for Avure, one of the biggest advantages of HPP is that it ensures food safety, a trend increasingly driven by regulations. Among the notable applications, HPP can control listeria in ready-to-eat meat products.
The first example of an HPP product was guacamole in 1997. Since then, the applications have grown to include purees, juices, petfood, and ready-to-eat meats, among others. Said Errol V. Raghubeer, Ph.D., Senior Vice President of HPP Science and Technology, "As the quality and reliability of HPP has improved, more applications have emerged. The cost has also come down."
David Flores Corrochano, Applications and Sales for Hiperbaric, agreed, saying, "We have improved the cost efficiency, and the machines are becoming more productive." Corrochano added that Hiperbaric conducts research and development at its facilities in Miami and Burgos, Spain, to develop new products for HPP.
One of the most promising new applications for HPP is baby food, with companies such as Little Spoon and Pure Spoon—both Hiperbaric customers—introducing preservative-free products for the refrigerated section. Says Corrochano, "Baby food is a great market because it's a premium product."
Another non-traditional pasteurization technology was displayed at the Micvac booth. The Micvac system uses microwave heating to pasteurize foods in their primary packaging. The process begins when the product is filled in a tray, which is then sealed with a film featuring a valve. When the package goes through the microwave tunnel, the product is cooked and pasteurized. During pasteurization, the valve opens to let out steam, and with it, all oxygen. The valve then closes, and a vacuum is created.
As with VSP and HPP, the Micvac process eliminates the need for additives or preservatives and allows consumers to heat products in the package. Said Håken Pettersson, CEO of Micvac, "Studies in Germany and France have proven that consumers like to have high quality, clean labels, and convenience." He added that the Micvac process also helps reduce food waste, as it can extend the shelf life of a product up to 35 to 60 days.
Since Micvac was formed in 2000, the pasteurization method has stayed the same, however the company has made improvements to materials for sustainability as well as for new applications. Recently the company added 15% chalk to its PP trays and has introduced pouches for food components. The company has also increased the size of product capable of being handled by its equipment up to 2.4 kilos for foodservice applications.
Pettersson says Micvac has also begun to take more responsibility for the full production line, specifying and integrating upstream and downstream packaging equipment for its customers.
Among some Micvac's recent customers are Orkla ASA of Norway, with its Toro fresh pasta products, and Smålandskräftan of Sweden, which uses the technology to package its fresh lobster and crayfish. "They don't need the technology for the cooking, but for the shelf life," explained Pettersson. "The seafood can be packed fresh and have a 35- to 40-day shelf life versus three to four days."
Just launched, a two-compartment tray for Sweden's Gooh! ready meals, including Chicken Red Curry and Chicken Garam Masala chicken-and-rice versions. Packaging for the line was designed with the valve on one side of the package, and channels between the two compartments that allow the heat move through the package.
Renewable materials more popular
Along with their desire for better-for-you products, consumers are also looking for packaging that is better for the environment and exhibits a more natural, or handcrafted, look. At the Bemis booth, the new Paper-Like™ ink finish gives film the appearance and tactile, matte feel of paper. Paper-Like can be applied on all flexible materials, including biaxially oriented polyamide, polyamide, PET, and BOPP.
At the Weber Verpackungen booth, the company was showing its range of bag styles for bread and sandwiches, fruits and vegetables, and deli slices constructed of a combination of paper and film. The bags, which can be printed on the paper portion, provide a viewing window for the products while using up to 70% less film (versus PE bags used for produce). The bags can also be manufactured with a self-adhesive label.
At Kuraray's booth, the company showed a range of film products that now incorporate Plantic—a starch-based, compostable bioplastic. Kuraray acquired Plantic a year ago and is now laminating the material with PE and PET for high-barrier packaging applications. Among the products shown were those for applications including: flexible top and bottom web thermoform, rigid and semi-rigid bottom web thermoform, premade tray applications, and bottom web thermoform skin applications.
Although Thomas Black, Director of International Business – Plantic, for Kuraray, concedes that once Plantic is sandwiched between layers of PET or PE, it is no longer compostable, "it still has a good sustainability story, a good life-cycle assessment."
Shared Black, Wegmans will soon be launching a meat package that uses a forming film comprised of printed PE/Plantic/PE. The switch, he said, will result in a 65% reduction in petroleum-based plastic and a more robust package.
Making meat eating more convenient
In the area of consumer convenience, new technologies at IFFA included easy peel and reseal solutions, single-serve portion packages, and other technologies beyond VSP and Micvac that allow for microwavability.
M'Steam® from Alert Packaging is a self-venting lidding film that can be used on a thermoformed tray. According to Alert Sales Manager Paul Kelly, M'Steam uses a proprietary technology whereby the steam vents between the laminates when the product is cooked in the microwave; there is no need for the consumer to pierce the film. Products are pasteurized after packaging, eliminating the need for preservatives and providing a shelf life of up to 95 days. Says Kelly, "M'Steam is the plastic version of a tin can."
Another new technology from Bemis, OvenRite® ovenable films comes in several formats, including hf/f/s solutions with self-venting lidding, premade pouches, and vf/f/s rollstock. The film allows for cooking in the package in either the microwave or oven, at temperatures up to 425° F. The products can go direct from the refrigerator and freezer to the oven, and there is no need to pierce the film, enhancing food safety. Applications include frozen meat and poultry, pork tenderloins, chicken breasts and thighs, dinner sausages, roast beef, ham, frozen fish and seafood, and premade sandwiches.
Adding reclosing convenience to fresh products in film, Coveris has introduced the Reclose versus Mono PET, which combines a resealable barrier lidding film on a bottom PET film. The lidding film can be resealed up to 10 times and is completely recyclable. In addition the top film can be gravure- or flexo-printed, and is available with an anti-fog coating and an EVOH barrier.
Sealpac's A-series tray sealers were also on display, demonstrating their ability to create small portions or individual packaging for different food components. With the rise in smaller households, the increase in snacking, and the large population of Baby Boomers, single-serve portions are becoming more popular. The A-series machine can accommodate food trays in different shapes and heights, produced using different materials that are sealed under MAP. At the show, Sealpac's Veenstra pointed out packages containing a single fresh chicken breast and another with fresh diced chicken, for a brand in the Netherlands.
Trays sealed on the A-series can also incorporate SEALPAC's EasyPeelPoint system, which integrates the peel corner within the sealing contours of the pack, making it easy for consumers to open the pack. The corner of the top film is pressed into a round cavity and releases from the sealing edge. With the resulting easy-to-grip peel tab, the top film is removed from the pack with minimum force.
IFFA 2019 is scheduled for May 4-9, 2019.