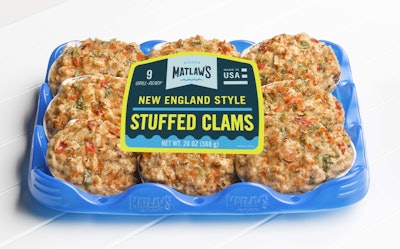 Matlaw's, a leading seafood innovator and creator of the No. 1 Seafood Appetizer in America, debuts its new recyclable plastic tray packaging. The patent-pending, sustainable trays will be available for Matlaw's 6- and 9-packs of grill-ready Stuffed Clams, as well as Matlaw's 6-packs of New England Style Stuffed Scallops.
As a business concerned about sustainability, Matlaw's has been on a quest to create a more efficient and recyclable packaging solution for its market-leading line of Stuffed Clams and Scallops for nearly a decade. After finding a partner up to the design challenge, and followed by extensive testing on its production line, Matlaw's has achieved this goal. The company has created packaging that appeals to consumers concerned about the environment and that delivers efficiencies for its retail customers.
Made with HDPE plastic, the new tray packaging features an innovative, patent-pending, wave design (a hallmark of the Matlaw's brand) that not only creates better airflow to the product but also highlights Matlaw's energy and passion for discovery. The wave design enables a more streamlined production process and compact stacking capabilities for efficient shipping.
"We've put a tremendous amount of thought into the design and development of our new packaging which is already paying off," says Todd Almeida, Director of Marketing for National Fish & Seafood, who led the effort to develop the new tray and was instrumental in creating its unique design. "Our retail customers consider the new tray to be incredibly innovative in the seafood market—a real game changer. Matlaw's new tray meets market demand for sustainable packaging, optimizes valuable shelf space for our retailers, and makes a distinctive and attractive splash on shelf, setting us apart from other brands in store."
Matlaw's new recyclable plastic trays also have an extremely positive impact on the environment, keeping nearly 47 tons of Styrofoam annually from going to the landfill. "Our new, high quality, eco-friendly plastic tray packaging for our popular Stuffed Clams and Stuffed Scallops is a true breakthrough for the Matlaw's brand," says Nancy Peterson, Matlaw's Vice President of Marketing. "We heard our customers' desires in wanting more sustainable packaging while keeping a modest price point, and we are pleased to be able to deliver on that."
Matlaw's new recyclable tray is also a hit with consumers who've put it to the test and said: "Love the recyclable plastic tray! You can see the great quality of the clams. And it's durable and compact, protects the product better, and takes up less space."
Companies in this article