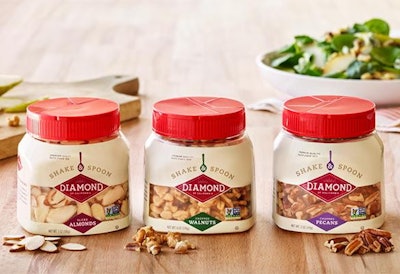 Diamond of California has answered consumers' request for an easy way to top off snacks, meals, and desserts with sliced, diced, and chopped nuts, creating the Shake & Spoon, a custom PET canister with a flip-top dual dispensing cap. Used for four varieties of Diamond nuts—chopped and finely diced walnuts, sliced almonds, and chopped pecans—the petite, square-base jar is right at home on the kitchen shelf or table next to the salt and pepper.
Says Rodrigo Troni, Chief Marketing Officer at Snyder's-Lance, parent company of Diamond, "Research shows our core consumer loves nuts and eats them every day for occasions ranging from snacking to meal making. We wanted to give them a convenient product that made adding nuts to everything easy and within arm's reach, which is where Shake & Spoon comes in."
The custom jar, which holds five to six ounces of product, depending on variety, was designed through a partnership between Diamond's internal cross-functional team and a proprietary supplier. "We selected this jar shape because we wanted a functional, yet premium-looking jar that consumers would feel comfortable leaving out as a staple on their kitchen tables," Troni explains.
The red polypropylene dual-dispensing closure, also custom and also from a proprietary supplier, allows consumers to easily and conveniently shake product out from one side or spoon from the other.
To align with the 100-year-old Diamond of California brand, label graphics were designed with the same look and feel as those on its vertical form/fill/seal bags. These include the cream, red, and green color scheme and the diamond-shaped brand logo. A clear window on the front of the label lets shoppers see the product inside, which Troni says is important to Diamond consumers. The flexo-printed label is made from a clear PETG.
Diamond's full Shake & Spoon line hit shelves in May 2016, located in the baking aisle and priced from $5.49 to $5.99, for 5- or 6-oz varieties, respectively.