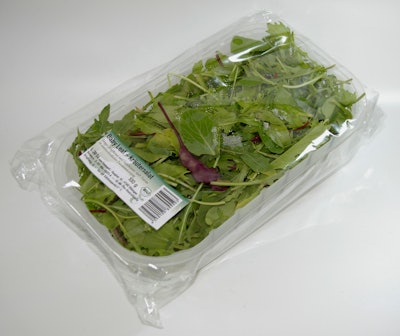 Packaging's future is written on the plant wall
U.S. demand for natural polymers is forecasted to reach $5.1 billion in 2020, according to The Freedonia Group. Much of this growth will be driven by demand for natural ingredients in the food and beverage industry, bolstering the use of materials like cellulose, the main component of plant cell walls.
Cellulose is a natural, abundant, renewable and inexpensive. In addition, cellulose has a low density and displays a strong and stiff structure, making it ideal for packaging. "Cellulose is a viable substitute for the petroleum-based materials," says Srinivas Janaswamy, research assistant professor of food science at Purdue University. He is part of a research team that has developed tough, flexible, biodegradable films from cellulose.
Janaswamy and Qin Xu engineered the cellophane-like material by solubilizing cellulose using zinc chloride, a common inorganic salt, and adding calcium ions to cause the cellulose chains to become tiny fibers, known as nanofibrils, greatly increasing the material's tensile strength. The zinc chloride and calcium ions form a gel network, allowing the researchers to cast the material into a transparent, food-grade film.
"Our protocol and processing have no harmful effect on the environment, as the materials being used are food grade," says Qin. "The prepared films could as well bestow the required physical strength along with acting as moisture and oxygen barriers, and could even be edible."
The films could be used as food wraps mainly to protect cheese products, meat products, and vegetables, as well as candies and sausage, to prolong their shelf life.
Currently, the films are susceptible to water penetration. This issue needs to be addressed, along with developing the required infrastructure for large-scale production. Janaswamy expects the films to become commercially available in about five to ten years.
Purdue University, Department of Food Science
[email protected]
https://ag.purdue.edu/foodsci/Pages/default.aspx
Caption: This blister package is made from cellulose acetate, a bioplastic. Photo: Purdue University.