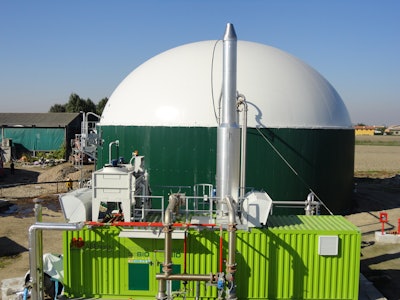 These days, nearly every food processor wants to reduce energy, whether it be through packaging reduction, becoming landfill-free or installing more energy efficient solutions throughout the plant. However, one area of opportunity lies within wastewater management, specifically with the installation of waste-to-energy anaerobic digestion systems.
Anaerobic digestion systems convert biomass and organics in the waste stream into biogas, which allows the simultaneous generation of electricity and thermal energy to power a food processing facility while treating the wastewater, according to Jason VerHoef, industrial wastewater sales manager for RWL Water, a Golden Valley, Minn.-based provider of water treatment, wastewater treatment and waste-to-energy solutions.
"We are in an age of constant technological evolution, which makes its way into wastewater treatment," he adds. "How water quality is measured, how permits are developed and enforced and ultimately how wastewater is treated mirrors this evolution."
The guidelines for wastewater treatment vary by state, county and even township, and are driven by the Federal Clean Water Act (CWA).
"Each state is tasked to enforce water quality standards independently, while still meeting the level of national standards set by the CWA," says VerHoef. "Allowing states to enforce water quality standards independently allows each state to ensure surface and ground water quality based on the most appropriate methods for their region. What may be appropriate for a beef processing plant in a dry region in Texas may not be applicable to a duck farm in Long Island, N.Y."
Beef, poultry, dairy operations promote anaerobic digestion
The use of anaerobic digestion in poultry and beef operations is also growing, as new technologies enter the market. In fact, there are 242 anaerobic digesters operating on livestock farms in the U.S., according to AgSTAR, the biogas recovery division of the U.S. Environmental Protection Agency (EPA), Washington, D.C., which helps to reduce greenhouse gas (GHG) emissions from methane. Of that 242, 196 are dairy farms, 39 hog farms and seven in poultry, beef and mixed food processing plants, each. These farms could potentially generate more than 13 million megawatt-hours of energy per year and displace about 1,670 megawatts of fossil fuel-fired generation.
Furthermore, AgSTAR identifies the top 10 states with the greatest electricity-generation potential from swine and dairy operations, with swine accounting for approximately 86% of the total electricity generation potential. Iowa and North Carolina, which are said to be the largest pork-producing states, account for 29% and 18% of the total, respectively. For dairies, the top 10 states represent 82% of the total potential, with California accounting for 35%.
Additionally, Representatives Tom Reed (R-NY) and Ron Kind (D-WI) introduced the Agriculture Environmental Stewardship Act, which was developed to increase the sustainability of farms by helping to deploy new nutrient recovery and biogas systems to recycle organic material into baseload renewable energy and healthy soil products. The act provides a 30% investment tax credit for qualifying biogas and nutrient recovery systems.
"This measure recognizes the value that biogas systems can have, as dairy producers continue improving the sustainability of their farms, large and small, across the country," says Jim Mulhern, president and CEO of the National Milk Producers Federation, Arlington, Va. "Importantly, the creation of this new investment tax credit also addresses the value of nutrient recovery technologies, which can transform manure into fertilizer for crops and bedding for cows. This bill will help dairy farmers to utilize these new, often expensive technologies on their dairies."
Whether it's for water reduction, waste reduction or simply just becoming more sustainable, anaerobic digestion systems prove to be the ultimate go-to solution in reducing energy in food processing.
[email protected]
Companies in this article