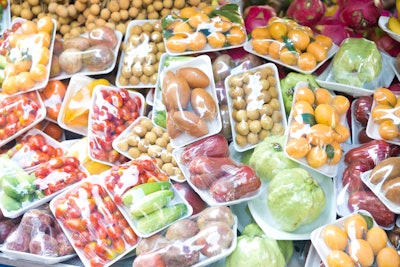 Nearly half of all food is wasted in the food chain each year, from farm to consumer. In addition, about a third of the planet's food goes to waste, often because of the way it looks, according to a study produced by National Geographic, Washington, D.C.
However, packaging advancements are providing solutions to food waste.
"The most important sustainability feature of a food packaging product is its capacity to preserve and protect food," says Kyra Douglas, senior director, global regulatory affairs at
SPI: The Plastics Industry Trade Association, Washington, D.C. "Food is far more energy- and carbon-intensive to produce than packaging, and food generates the potent greenhouse gas methane when it decomposes. The properties required for a package to preserve and protect food will vary across different food types. No matter how lightweight a package is, for example, and no matter how much recycled content it contains, if it fails to do its food preservation job, then it makes a far worse environmental impact than a heavier package made of virgin material that performs properly."
Plastic packaging, for example, helps reduce packaging weight and material, which in turn reduces the number of trucks delivering the same amount of product, thus decreasing costs, energy consumption and greenhouse gas emissions, adds Douglas.
"Plastic packaging is important to food and beverage processors' energy reduction and broader sustainability initiatives," she says. "A 2014 study, 'Impact of Plastics Packaging on Life Cycle Energy Consumption & Greenhouse Gas Emissions in the United States and Canada,' concluded that if a variety of plastic packaging products were replaced with non-plastic alternatives, the amount of packaging generated annually in the U.S. would increase by 55 million tons."
Plastics are also a preferred packaging material due to their versatility and ability to incorporate additional materials and properties, according to Emily Tipaldo, packaging director for the American Chemistry Council, Washington, D.C.
"When looking at the entire life-cycle of various packaging materials, plastics often compare favorably to other materials in areas such as energy and water use, air and greenhouse gas emissions and solid waste," she adds. "We're hearing that consumers want sustainable packaging. Material suppliers and packaging converters continue to innovate to meet both customer and consumer demands for packaging performance and sustainability. For example, consumers want to know the brands they use and love are incorporating recycled content into packaging, and they want clear labeling to help them understand the end-of-life options for packaging."
That's why the Sustainable Packaging Coalition (SPC), Charlottesville, Va., introduced the How2Recycle label program, a standardized labeling system that communicates recycling instructions to the public.
"Plastic packaging plays a key role in the quest for solutions to the food waste problem. For example, studies show that for every pound of plastic used in packaging, 1.7 pounds of food waste can be prevented," adds Tipaldo. "Reducing a package's weight equates to savings—raw materials never extracted, energy and water not used and decreased transport requirements."
www.americanchemistry.com
www.
plasticsindustry.org