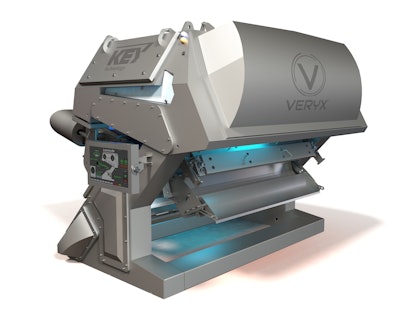 Featuring a 1,750mm-wide inspection area suitable for mid- to high-capacity operations, the Key Technology VERYX B175 belt-fed digital sorter is designed for processors sorting wet or frozen potato strips and specialty potato products, as well as vegetables, fruits or other foods. For all-sided surface inspection, the sensors can be arranged for a full view of each object in the product stream. The bottom cameras are positioned away from product splatter to ensure lower sensor windows are not obstructed. The multi-sensor Pixel Fusion feature merges data streams from multiple cameras and lasers in relation to each image pixel, enabling the sorter to detect and remove submillimeter-sized defects and foreign material.
Companies in this article
Videos from Key Technology, Inc.