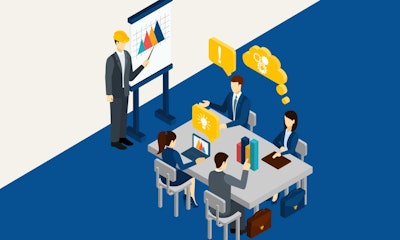 The U.S. economy continues to grow despite challenges within certain industry segments and from beyond our borders, and yet it might be harder than ever to win a place in the capital budget for projects involving automation technology. That's because executives who decide on expenditures are asking tougher questions and demanding proof that significant business returns will be delivered with every investment.
"We're at an inflection point now," says Frank deJong, vice president of global projects at Emerson Process Management. "The marketplace is asking for a step change in execution because they no longer have the margins to cover up cost and time overruns. There's also been a step change in technology, people's comfort with it, and new tools to make process improvements happen."
Though executives can be very skeptical of the value of automation, they also know they need it to achieve their business goals. Engineers who can speak the language of business value are in a strong position to help guide their companies to a more profitable future.
System integrators and automation suppliers, which have years of experience working with the managers who make funding decisions, can be valuable sources of information and tools for engineers seeking the best way to make a case for an investment in automation.
Think Like An Accountant
"Automation applied correctly can add more value to the bottom line than any other business investment, but it requires talent that understands both the human rules of accounting and the physical laws that govern engineering," says Peter G. Martin, vice president of business value consulting for Schneider Electric. "Unfortunately, many automation investments are made mostly to reduce the nuisance factor from existing systems, so a lot of automation is going in that's not driving value. Its true financial impact on the business is also not widely understood."
Martin thinks most people understand what the basic costs are for components and engineering, but few know what the benefits are. "Companies are focused on lowering project costs, which reduces automation to a commodity," he says. "When you relegate automation to a benefit-less role, it's no wonder that executives ask, 'Why not just do a replacement?'"
Although accounting is the department that ultimately determines value at a company, a major challenge is that cost accounting systems can only measure the cost of a project. Since accounting looks at the plant as a whole, rather than on a unit basis, they also never know which unit is actually responsible for any benefits.
"To change that playing field, you have to evaluate the cost of an automation investment based on its economic value to the business," Martin explains. "Then you have to do real-time accounting at the work-cell level, which lets you measure operator activity. By modeling accounting in the control system, using the same accounting rules like GAAP (generally accepted accounting principles), you can establish a baseline and store a history, which allows you to watch performance before and after each investment."
It can take a change in mindset for engineers to embrace this idea, according to Martin, but many have begun the shift. "Engineers often go through their entire careers without being measured on their activities beyond whether they've completed a project on time and on budget," he says. "They need to be on planning teams and at the executive level, talking about business value rather than [just] project schedules."
Dashboards that relate production data to financial data can be powerful tools for both operators and managers. "Historically we've put things like cycle time on dashboards, but putting real-time financial and production information at their fingertips allows them to make better decisions," says Randy Otto, vice president of business development for ECS Solutions, a member of the Control System Integrators Association (CSIA).
What's your story?
As they say in the advertising business, what's your elevator pitch? It's the quick, compelling story of the value you can deliver, how you'll do it and why it's essential to the future of the business.
You have to capture the attention of executives who are often more comfortable living in the world of numbers than on the factory floor, then spell out your business case using charts, graphs and any other visuals needed to demonstrate your proposition.
To do that, you need to speak the language of business, which is focused on productivity improvement, higher revenues, lower cost structures, risk avoidance and opportunities for growth. That's why projects designed to reduce downtime can often be as important in generating business value as those whose goal is process optimization.
By understanding what's driving the business and the management team's vision for the future, you'll be able to frame your arguments for investment in terms of its benefits to the business.
"You have to spell out what the business will gain from this project," says David McCarthy, president and CEO of CSIA member TriCore. "Executives want to know how spending this money will let them make more money, improve product quality, lower costs, make workers safer or reduce risks."
Where it makes sense, bring your project partners to the table to help build your case and provide any technical support or schedule justification to increase executive confidence in the team and in a successful project outcome. Automation suppliers and system integrators can be particularly useful sources of information in showing how other companies have succeeded with similar optimization projects.
The job of making a case for investment is a two-way street, and executives have their own set of responsibilities in this dialogue, explains Rich Carpenter, chief technology strategist at GE Digital. "Business executives need to understand how manufacturing technology and business itself is changing and see themselves as part of a digital industry. While large companies and those that make high-value products and consumer packaged goods have begun the shift, those in the mid-tier level need to wake up," he says.
Even the smallest plants are connecting their enterprises and building digital links to their transportation partners to ensure product quality, Carpenter says. "With so much global competition, the imperative is to gain share. Companies need to be able to pivot their plants as market demand changes. Those that ignore the need to invest in their production systems and gain actionable business intelligence won't be around in the future."
Make a virtual case
If you promise to improve process efficiency, you have to deliver results. Taking advantage of virtualization tools to pretest and demonstrate the functional effectiveness of new system designs can be a game changer in proving your case—and in gaining executive buy-in.
Emerson, for example, has built four engineering data centers around the world for its DeltaV control platform to evaluate system designs in a virtual environment. The centers allow customers to see how their virtual systems will work before the actual equipment is installed.
"While some customers initially express reluctance about virtual testing, there's a growing comfort level with virtualization and the centers are now supporting more than 700 projects," says Roger Freeman, vice president of Emerson's Project Management Office. "This is another way a small investment in technology can be applied in a transformational way to achieve a big impact."
It's crucial to make sure new control designs will function as promised, says Will Aja, vice president of customer operations for CSIA member Panacea Technologies. "We do a lot of testing internally with a virtual test bed to simulate the operation of controllers on a system, so we can prove the changes we're recommending will be worthwhile," he says. "This helps us do a better job and ties in with the whole virtualization trend. It's a tool for better decision-making that can also reduce engineering and startup time and costs."
Computer simulations can also help dramatize the contrast between existing systems and how the process would work with an optimized design. "Simulations immediately show the engineering and management teams the impact on such things as labor, floor space and production rates," explains Mark Sobkow, vice president of manufacturing solutions for CSIA member RedViking. "The key is that every piece of equipment, every piece of automation, has to earn its place and its price. By doing these metrics, whether it's through simulations or helping customers think outside the traditional methods, you can focus on important things like the process. There's no point in automating something that's a bad process to begin with. You'll just make a bad process faster."
Create manageable bites
Phasing in automation upgrades over multiyear projects is both easier on the budget and less risky if there are transition problems.
"Modernization is a journey," says John Riess, global marketing lead for integrated architecture at Rockwell Automation. "When you're dealing with a significant installed base of 25- or 30-year-old technology with limited memory, you can't do it all at once. Our job is to help customers get there without doing a complete rip and replace."
One of the benefits of incorporating open, industry-standard technologies is that it allows industrial and commercial devices to coexist on the plant floor, Riess adds. "This means they function in a way similar to how products work within the Apple ecosystem, so they can sense each other in the same way a computer does when you connect it to a printer. This simplifies communications and integration, and reduces engineering and startup time."
It can take many years to transition to a new control system, notes Tony Jacobsen, business development manager for CSIA member Autopro Automation Consultants. "We've found that if you start by first tackling the most complicated or risky piece of an upgrade, you're able to find the answers you'll need to make the entire project successful. By frontloading the project, it becomes easier to do the less expensive and less complicated pieces in the following years," he says. "Executives tend to focus on the big-ticket items in a project, like equipment or piping. Typically, automation costs make up a small share of a total project budget, even though automation may be the brains of the operation. Make the case that by adding a smart expenditure on automation to the budget, it will ultimately improve the success of the entire project."
Prepare for a new generation
Modern technology can be a powerful recruiting tool for manufacturers, which often find it difficult to attract young people with the higher-level skills needed to operate a successful business today.
The most innovative companies are often those where change is happening quickly and management has made a commitment to optimization. "Certain companies don't necessarily have more money, but they're more open to change. The automotive industry is a great example for always being on the leading edge of automation. Improving processes in their plants always was a major driver for change," says Stefan Werner, marketing manager for factory automation at Siemens. "Even in process industries, engineers are being forced to deal with changes in equipment like boilers as vendors are now obsoleting and recertifying their systems about every five years."
In many cases, the new generation is making a push for change. "Young people have had computers in their hands for their entire lives," says Keith Moreland, product marketing manager for the TIA Portal at Siemens. "This new generation is questioning the status quo and pushing for improvements now that money for investment is starting to flow again, even if slowly. Our job is to aid them in making their arguments. The chance to optimize industrial processes using new technologies can be very attractive to this group. They're the ones companies will need to rely on as the current generation of engineers retires over the next few years."
Adds Rockwell's Riess, "Generational change is bringing attitude changes. Young people are not interested in learning the old industrial stuff. They want things to work the same way their smartphones and tablets do. Managers have to ask themselves whether they're going to be able to support legacy equipment when their current workforce retires."
Access the other installments in this 4-part series on the value of automation:
Companies in this article