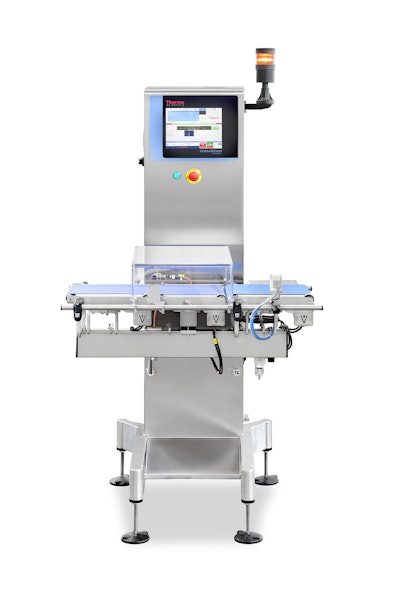 A new checkweigher line for dry applications has been added to the Thermo Fisher Scientific Versa platform. The Thermo Scientific Versa Flex (fixed height) and Versa Flex GP (height-adjustable cantilever) checkweighers are designed to improve accuracy and reliability, while decreasing product giveaway, maintenance and total cost of ownership.
The line targets dry applications such as pharmaceuticals, personal care products and foods. These Versa Flex models are designed to make precision checkweighing more affordable for companies that previously couldn't justify the expenditure of machines build to accommodate IP65 washdown requirements.
Checkweigher models that target dry products are easy to integrate into operations that already run wet products. Because the entire Versa line shares a large percentage of common parts and maintenance procedures, companies can benefit from deploying the platform throughout the plant.
The Versa Flex and Versa Flex GP checkweighers offer easy-to-read touchscreens with multiple language options. Frames have been designed to minimize food build-up, and rapid-release conveyors and belts also help simplify maintenance.
The units meet or exceed a variety of regional and international standards. Proprietary software with advanced automatic-zero algorithms has been designed to facilitate accuracy over time, regardless of environmental conditions.
Companies in this article