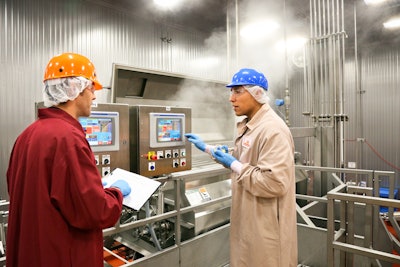 Labatt Food Service, San Antonio, Texas, opened a new, 65,000-sq.-ft., $28 million meat cooking facility that produces barbacoa, brisket and tamales for fast food and restaurant customers.
But what separates this state-of-the-art facility from other meat cooking plants is its high-tech machinery, ability to pump out large volumes of product and its room for growth.
"We built this plant to service the growing Texas market. We felt that the industry lacked a state-of-the-art facility that specialized in our regional palette," says Fred Silva, general manager for Direct Source Meats, a wholly-owned subsidiary of Labatt Food Service. "San Antonio is a great location for such a plant because of its central Texas location, and we believe that the city's culture definitely affects our food."
The fully stainless-steel plant can cook up to 4 million pounds of authentic cheek meat barbacoa, 9.5 million tamales, 4 million pounds of taco meat and 1.7 million pounds of mesquite-smoked brisket a year on just one shift.
"Those numbers will triple if we just add the equipment we designed the plant to contain. We designed the building to expand and included space to add another spiral freezer, tamale line, steamhouse, 6,000-pound kettle and two smokehouses," Silva says. "In addition, we put both of our receiving and shipping docks on the same side of the building, so we could expand the building in the other direction without destroying a dock. Our cooler in the plant was built with grease traps and all of the necessary plumbing, so it can turn into a production floor overnight."
The new plant is equipped with a tempering unit, smokehouse and steamhouse designed by Reiser to ensure that all food is cooked as consistently as possible each time.
The spiral freezer from JBT FoodTech is cooled with ammonia at -50°F. Its half-mile-long spiral belt takes 70 minutes to cool product from 180°F to 18°F. "The fast freezing time is important for food safety as well as for producing items that keep their texture when re-heated," says Silva.
And, the hygienic air system removes all humidity and controls the temperature to maintain a dry, pathogen-free facility. "All air that interacts with cooked product is treated by our [air] system," says Silva. "The air is passed through three filters and hit with UV light to completely clean it."
Other features include LED lighting, x-ray machines and the use of real mesquite wood chips in the smokehouse.
Companies in this article