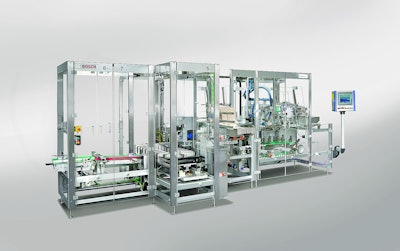 It's a well-known fact: Consumers want what they want, when they want it. In an era of rapidly changing consumer demands, food manufacturers need equipment and technologies that help them adjust to market shifts quickly and efficiently. For global consumer products giant Unilever, makers of such iconic brands as Lipton tea, Magnum ice cream, and Dove personal care, packaging flexibility is a top priority for maximizing productivity.
Take for example a recent equipment upgrade to ramp up production for one of its top- selling and best recognized food brands—Knorr. Knorr's products are sold in 80 countries, earning it the distinction of Unilever's "number one" brand for convenience food.
The Knorr factory in Sanguinetto, Italy, near Verona, produces most of the brand's global jelly bouillon production volume. The plant has a reputation for high productivity, which has helped make it the production benchmark for all of Unilever's plants. Over the past several years, the plant's personnel realized they needed to implement more flexible case-packing operations to handle increasing demands for different pack styles.
"We found that we needed to change pack formats more and more frequently," says Carlo Forchia, Unilever's Project Delivery Engineer at the Sanguinetto plant. "Just a few years ago we only needed a case packer with one standard format, but now we need to make changes to package specific and different formats for our customers."
To incorporate new case-packing technology with the flexibility required, Unilever reached out to Bosch Packaging Technology.
Serving global taste buds
Founded in 1838 and purchased by Unilever in 2000, the Knorr brand encompasses a wide product range of bouillons, soups, seasonings, and related products. The reach of the Knorr product line is enormous; everyday around 320 million people around the world consume a Knorr product. To serve all of its consumers, Knorr needs reliable packaging equipment.
The jelly bouillon produced at the Sanguinetto plant uses a patented jelly technology to create a soup stock that melts naturally into dishes to enrich flavor and provide an authentic taste. The concentrated bouillon is often dissolved in water and added to meat. The Sanguinetto plant is the only one in Italy that makes jelly bouillon, however it also produces other Knorr savory foods, including risotteria rice dishes that are prepared in hot water.
The plant supplies not only the Italian market, but also an extensive international market. Most of its products are exported to other European countries, mainly the U.K. and Germany, as well as South America.
Flexibility times three
In 2011, the Knorr plant installed its first Elematic 2000 wraparound case packer from Bosch to complete its high-speed line. "Our relationship with Bosch dates back to 2011 when we became the first Unilever plant in Italy to purchase a Bosch machine for our lines," Forchia notes. The facility was so pleased with the results that it has since added two more Elematic 2000 case packers—the most recent in September 2013—to further boost flexibility. Among the benefits of the machinery for Knorr is the equipment's small footprint versus a top-load case packer.
As a result of installing the new machines, Unilever has improved operational efficiency and is able to change pack styles quickly for its expansive line of Knorr products. Today, the three case packers are installed on two standard production lines and one high-speed line.
The Elematic 2000 is designed to handle smaller bundles and case-pack the products into a tray with inner hood. It handles various pack styles, ranging from tray, to classic full wraparound, to two-part, retail-ready packaging. "The unit has the flexibility to accommodate multiple pack styles, including single- or double-stacking of the products," Forchia says. At the plant, the Elematic 2000 currently packs between 35 and 40 cases/ min, with the capability to increase that per-minute rate.
Format changeovers can be made quickly and require no tools. It's the kind of flexibility that has made operations run more smoothly at the plant as it grapples with the sudden changes in demand.
"Some years ago we could easily operate a single case packer with one format for a whole week. Today this would be impossible because any given week necessitates several changeovers," says Forchia. "To sum it up, the Bosch equipment design is clever; with quick and easy changeovers that take anywhere from 30 minutes to one hour. It gives us the capability to produce new types of trays, so we can respond to marketing requests for new formats quickly."
Packaging flexibility has been key for Unilever to continue its success with marketing the Knorr brand globally. With the help of the new wraparound case packers, it has been able to keep pace with consumer demands without compromising quality.