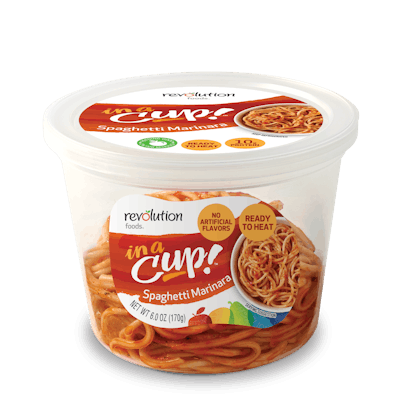 Two moms on a mission to transform the way Americans eat have taken the knowledge gleaned from the 1.5 million freshly prepared, healthy meals they provide to schools each week through Revolution Foods to develop a portable, on-the-go product kids love to eat. The In a Cup! Line of noodles in three varieties was launched in August 2016 in a BPA-free, microwavable 6-oz polypropylene cup with lid that can be enjoyed at home or packed in a lunchbox or insulated bag for a meal or snack at school.
"Kids love noodles—they are consistently in the most popular meals across our school menus—but we realized there was a void in the category when it came to convenient on-the-go options," says Kirsten Saenz Tobey, co-founder and Chief Impact Officer at Revolution Foods. "We used the insight we gained from our vast school meals experience to create our chef-crafted In a Cup recipes."
Saenz Tobey explains that a clear cup was chosen to package the noodles to allow parents and kids to see the product inside; the Revolution Foods brand is all about transparency in terms of the simple, clean ingredients it uses. "And the cup is an easy, portable container, fun and reclosable," she adds.
The ready-to-eat noodles—in Spaghetti Marinara, Sesame Noodles, and Thai-Style Satay Rice Noodles varieties—are prepared from scratch, freshly cooked, then heat-pasteurized and vacuum-sealed to preserve freshness. The refrigerated products do not contain any artificial colors, flavors, or sweeteners, and have a shelf life of 45 days. According to Saenz Tobey, the noodles can remain at room temperature for up to four hours and can be eaten cold or heated in a microwave. An individually wrapped spork is included in the cup for on-the-go consumption.
Revolution's in-house creative team designed graphics for the packaging in keeping with the company's brand. They include the company's signature garden design made up of illustrations of fresh fruits and vegetables in rainbow colors that represent the freshness and nutrition Revolution strives to serve up in its foods, explains Saenz Tobey. She adds that the rainbow colors also reflect how the company designs school meals—eating the colors of the rainbow—to reinforce variety and a nutritious mix of foods.
The In a Cup! line is available in more than 4,500 grocery stores across four states, including Whole Foods, Safeway, Sprouts, Walmart, Vons, and Raley's for $3.49/cup.