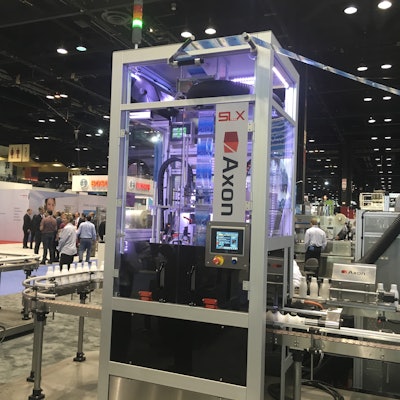 The new SLX full body sleeve and tamper evident applicator, built to PackML standards, is built for high-speed production. The SLX applicator features the new Rockwell CompactLogix 5380 PLC, a Rockwell 5500 HMI, and five different servo motors. The SLX also has a high-precision SLT film-delivery system, with an improved web tension system for superior film control, and a new digital-format monitoring system for quick, error-free changeover. The SLX is capable of handling film thicknesses from 25 to 70 microns. At Pack Expo, the SLX demonstration shows a full-body sleeve application at production speeds greater than 800 bottles per minute using 30-micron film. Axon, powered by Pro Mach is in Booth S-3714 at PACK EXPO.
New technology also on display at this booth:
The new Axon EZ-150SL for those looking for a rugged, dependable sleeve applicator capable of speeds up to 150 bottles per minute. This applicator is ideal for those new to automation, such as craft breweries, or labeling operations looking to step-up to a higher level of production.
The new EZ-200He is an updated version of Axon's EZ-200 applicator, with a new energy-efficient electronic actuator designed to reduce changeover time and energy consumption.
The ThermoFlow is a new compact, self-contained shrink system that features a 15-PSI low pressure steam generator and condensate collection system. The ThermoFlow easily adjusts the amount of steam appropriate for the size of container to minimize energy consumption, and it offers quick tool-less changeovers for maximizing throughput.
Companies in this article