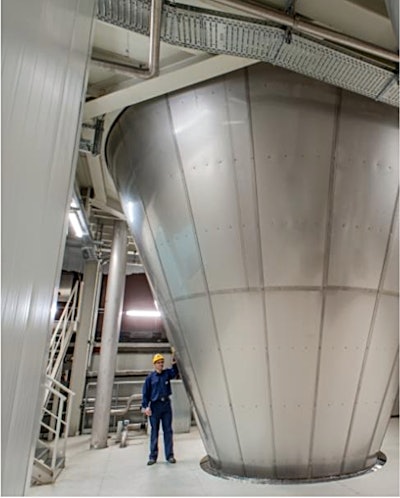 Until recently, cheese processors and other dairies would discard whey by transporting it off-site to be dried by other companies, to drain into effluent treatment plants or city municipalities or to be used as cattle feed. However, these options come with significant transport or disposal costs that can negatively impact a company's environmental footprint and bottom line.
But, when SPX Flow Technology introduced whey processing technology, which turns whey, lactose and permeate powders from a waste stream into a new source of profit, it opened new avenues for various applications and markets.
"This is not an energy management process," says Pranav Shah, process category sales manager, dry dairy for SPX Flow Technology. "This is a special 'extraction/mining' process that helps to mine out special ingredients from whey. The pediatric, geriatric, nutrition, ready-to-eat, baking, confectionery, health and pharmaceutical industries benefit from harvesting ingredients through this extraction process."
Dairies identify the type of cheese production—sweet coagulation of cheese curd or acid coagulation. Then, depending on the raw material (i.e., sweet whey or acid whey) available, SPX Flow Technology suggests a proper pre-treatment processing of whey and further concentration, Shah adds.
"The sweet whey, which is most commonly produced due to rennet being used in cheese production, is ideal for making a wide variety of products like whey powder, whey protein isolates, whey protein concentrates, non-caking permeate, lactose powder, etc.," he adds. "The process is to pre-concentrate the whey via membrane filtration, and then evaporate with a mechanical or thermal vapor re-compressor-based evaporator."
After crystallization, whey concentrate is then further dried in a spray dryer where each powder is treated depending on customer specifications.
"Markets around the world are becoming more and more aware of whey processing technology. New specialized products are being developed that require whey as a special ingredient," Shah says. "Whether it is demineralized whey powder for infant foods or whey protein isolate for body building, permeate for savory soups or lactose for a pharma application, these products have truly become valuable in the production of specialized products."
Recently, SPX Flow Technology received contracts to design and construct new plants that produce whey powder and non-caking permeate powder in Lithuania, and a high-yield lactose powder plant in France. The lactose plant is said to provide a 20% yield improvement compared to traditional processors.
"Some of the biggest dairies across the world use this technology," says Shah. "In some studies, conducted by the USFDA for example, whey ingredient permeate is already being considered as a replacement to common salt."
Companies in this article