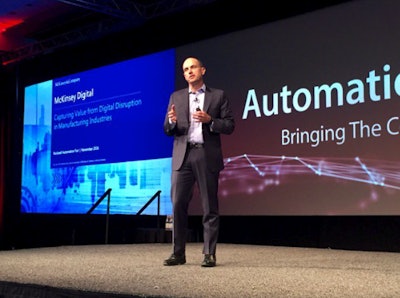 If it seems like most industrial technology conferences, articles, webcasts and hallway discussions are about the Internet of Things (IoT), there's a reason for that. Whether it's referred to as Smart Manufacturing, Industry 4.0 or IoT, it's all about the convergence around a similar concept or end state, which is, essentially, "the next industrial revolution," said Bob Sternfels of McKinsey & Company at Rockwell Automation's Automation Perspectives 2016 event in Atlanta held in conjunction with the company's annual Automation Fair.
Sternfels pointed out that industry's collective advance toward IoT is not an evolution, but a transformation of industry based on "unprecedented levels of data, connectivity across supply chains, pervasive sensing, the use of data analytics to drive ever greater levels of efficiency and the maturation of new cyberphysical technologies such as artificial intelligence, 3D printing and robotics."
Driving this advance is the massive amount of data at our fingertips, much of which goes unused. "We now create as much data every two days as we did between the years 1100-2003," noted Sternfels, "but less than 1 percent of stored manufacturing data is being leveraged today."
The results of a recent McKinsey & Company survey of 200 executives from the world's largest industrial companies show most of these executives confirming their belief that IoT will improve competitiveness, Sternfels said. However, only one third of those executives consider their companies to be making "good progress" in terms of transforming themselves to take advantage of IoT. The reason, according to the executives, is that the transformation is very difficult. It requires coordination of actions across business units and job responsibilities, executive courage to push the transformation, and the ability to think out the transformation across entire business models. In addition, there is a lack of available talent, most notably data scientists; concerns about cybersecurity and data ownership; uncertainty about insourcing vs. outsourcing; technology integration challenges; and the fact that most companies lack a clear business case for the implementation of any IoT-related transformation.
Given those concerns and the acknowledged difficulties, the key to getting an IoT initiative moving is determining the value to be derived from it. McKinsey & Company estimates that $11 trillion worth of value will be created by IoT by 2025, with the lion's share of that figure to be captured by industrial companies. Sternfels said industrial companies that undergo successful digital transformations can expect a 40 percent average improvement in operating income. For companies that are publicly traded, they can also expect their stock valuations to double due to re-ratings based on new levels of potential growth.
To capture the value of IoT for your company, Sternfels advised applying these five elements:
Analyze the entire digital thread related to your products—from R&D to the end of product life—rather than continuing the silo-based mindset of analysis by function or department.
Focus your efforts on a limited number of high-value applications, such as overall equipment effectiveness (OEE), real-time monitoring or throughput optimization. Don't try to take on everything related to an IoT transformation at once. Start with quick-win projects.
While concentrating on these short-term ROI projects, invest in IT infrastructure.
Rethink your relationship with suppliers, customers and partners you may not have seen as part of your ecosystem. Echoing many of the themes I heard repeatedly at IoT Solutions World Congress 2016 in Barcelona, Sternfels said it is too difficult and time consuming to attempt conquering IoT on your own. "You have to link your executive strategy with the ability to deliver clear digital ROI, transformational change management and sector-specific insights, plus deep hardware and software expertise. It's just too difficult for one company to do all this, that's why there is such a need for partnerships."
Develop your organizational capability to adapt. "This is the hardest one," said Sternfels, as it involves moving from a siloed organization to an integrated structure. It also means moving from a matrix organization with permanent roles to an agile network with evolving roles, or from centralized coordination with a fixed set of key performance indicators to self-coordinating teams with evolving KPIs, or from a fixed project budget approach to venture capital types of budgeting. It also means moving from annual planning to iterative changes.
Companies in this article