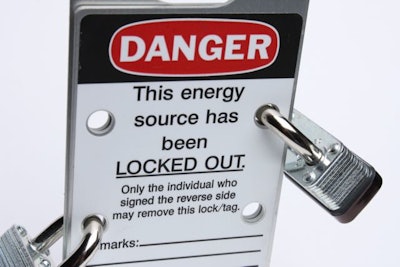 In October, the Occupational Safety and Health Administration (OSHA) proposed a change to its Control of Hazardous Energy (lockout/tagout) Standard (29 C.F.R. part 1910.147). The standard, created in 1989, addresses the practices and procedures necessary to disable machinery or equipment in order to prevent the release of hazardous energy while employees perform servicing and maintenance. To that end, it outlines measures for controlling the unexpected startup or release of energy from electrical, mechanical, hydraulic, pneumatic, chemical, thermal or other energy sources in machines, which could seriously injure workers.
The change that OSHA is now considering is the removal of the word "unexpected" from the lockout/tagout description. The suggested change is just one of 18 revisions related to existing standards in the areas of recordkeeping, general industry, maritime and construction—all of which are under review as part of OSHA's Standards Improvement Projects (SIPs).
The revision to lockout/tagout is meant to clear up any confusion of the meaning of the word "unexpected." Specifically, OSHA believes the term has been misinterpreted to exclude startup operations or where employees are subject to injury due to the release of stored energy.
This was examined as part of Reich v. General Motors Corp., Delco Chassis Div. (GMC Delco), a case which came under review because workers were servicing machines that used an eight- to twelve-step startup procedure, including time delays and audible or visual warnings. The court held that, because these functions would warn the servicing employees that the machines were about to start, the startup would not be "unexpected," and therefore did not need to comply with the lockout/tagout procedures.
But OSHA argues that warning devices are not as protective as a lockout/tagout program. Still, technology has come a long way since the standard was published nearly 30 years ago, and companies are adopting advanced systems for safety and regulatory compliance all the time. In an effort to explore the potential impact or issues that the revision may cause, OSHA invited the industry to submit comments earlier this month.
According to Bruce Main, president of Design Safety Engineering, this is a significant change that could threaten the use of automated technology—such as alerts and other control systems. In an article in Healthcare Packaging, Main, who is also the chair of the ANSI B11.0 machine safety standards, expressed concern that this revision could be challenging to machine suppliers and end users in a variety of industries.
"The proposed change will make the use of alternative methods much harder for employers because OSHA will require lockout for all energy sources," Main said during a presentation at Pack Expo. "This means that new technology or controls designed to enable safe and quick access for necessary tasks will be prohibited."
For now, we wait and see.