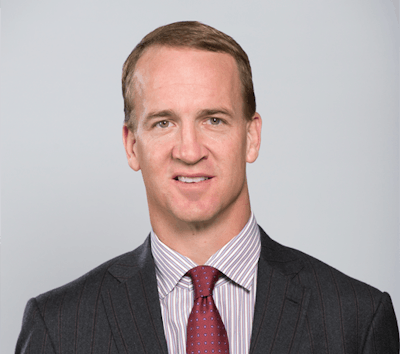 When it's fourth and goal to go with the game on the line, the seasoned team leader knows which plays will move the team to victory. Legendary quarterback Peyton Manning, the National Football League's only five-time Most Valuable Player and a fourteen-time Pro Bowl selection, is such a leader. With this in mind, PACK EXPO, Anuga and the International Dairy Foods Association could think of no better leader to kick off the inaugural ProFood Tech 2017, choosing the two-time Super Bowl winner as the event's keynote speaker.
Manning is a gifted leader who understands how to build a successful team and lead them to victory, sometimes through difficult circumstances. Like any good business leader, Manning is an inspiration to those he leads. He knows his business and understands how to motivate a team to work together toward a common goal.
Recently selected for the College Football Hall of Fame and a lock for the Pro Football Hall of Fame, Manning threw the most career touchdown passes in league history in addition to ranking first all-time in wins by a starting quarterback (200), completions and passing yards.
During his first fourteen NFL seasons with the Indianapolis Colts, Manning set club records in nearly every career passing category. He led the franchise to its first World Championship in 36 years during the 2006 season, earning MVP honors in the Colts' 29-17 win over the Chicago Bears in Super Bowl XLI. He retired from the NFL after leading the Denver Broncos to a 24-10 win over the Carolina Panthers in Super Bowl 50, making him the first starting quarterback in NFL history to win a Super Bowl with two different teams.
During his time at the University of Tennessee, Manning epitomized the term "student-athlete." He claimed 43 records at the school, conference and national levels while graduating with Phi Beta Kappa honors.
For his actions off the field, Manning was honored as the recipient of the Byron "Whizzer" White Humanitarian Award and the NFL's Walter Payton Man of the Year in 2005 as well as the Bart Starr Award in 2015.
Winning Strategies with Peyton Manning will be held April 4, 2017 from 8:00 to 9:15 a.m. in the Arie Crown Theater at McCormick Place in Chicago.
To learn more about ProFood Tech and see the entire agenda, visit: www.profoodtech.com.
Conference registration is required to attend this session. Register now.