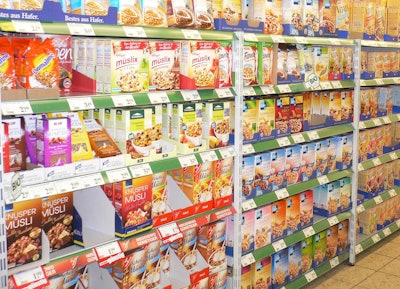 With the interpack 2017 trade fair in Düsseldorf, Germany fast approaching, attendees will be anxious to see the range of packaging innovations for confectionery and bakery products on display at the show. ProFood World recently caught up with Vera Fritsche, advisor international trade rairs, markets and economy at the VDMA Food Processing and Packaging Machinery Association, and head of admission committee interpack 2017 (VDMA is conceptual sponsor of interpack 2017), to find out what trends she expects to see at this year's exhibition.
Small packages keep consumers healthy
In the U.S., Europe, and many other countries there is an ongoing debate regarding the negative effects of sugar in food and beverage, explains Fritsche. In response, manufacturers of confectionery, cookies, snacks, etc. are increasingly offering products in single-serve packages. "These guarantee that the customer is getting the proper amount (serving) of the product and that he or she can consume it easily at any time. To make snacks ready for on-the-go consumption, more and more food producers are offering their products in small and smallest packages."
Active packaging for improved food safety
Modern packaging materials actively intervene in the physical-biological-chemical processes, regulating the moisture in packaging, absorbing oxygen, carbon dioxide or ethylene, and extending the shelf life and quality of food. "Above all, they are biochemically active and therefore combat the spread of microbial germs," she says.
Packaging from renewable raw materials
Packaging made of bioplastics is on the rise worldwide, be it new materials made from renewable resources or barrier coating of films made from whey. The advantage of whey is that its ingredients are naturally capable of extending the shelf life of foods. However, whey is heat-sensitive, so researchers first have to find a coating formulation that can also be processed at high temperatures. In the context of its ThermoWhey project, the Fraunhofer Institute for Process Engineering and Packaging is working on a production process for barrier coatings made of whey protein capable of replacing conventional oil-based polymer coatings.
"More and more food companies rely on packaging from renewable materials that are bio-degradable," says Fritsche. Alternatives to classical packaging materials like aluminum and plastics are already making increasing inroads into the marketplace. Under its Greenbox label, Bionatic, for example, has developed its first range of some 250 different packaging solutions using renewable or recycled resources such as wood, cellulose, bioplastics and palm leaf. Many of these solutions are biodegradable or can be incinerated pollution-free.
Innovative packaging material with barrier functions
Fritsche says that food manufacturers are also increasingly looking for new, sustainable packaging materials that prevent mineral oil residues and other harmful substances from passing into food from paper and cardboard packaging that contains recycled paper. "Manufacturers of paper and cardboard packaging already offer numerous innovative packaging materials that extend the durability of the packaged product," she states. Consider that the Corny muesli bar's steady reduction of an aluminum barrier film wrapper being replaced by a new composite barrier material – without disadvantage to the product.
Modified atmosphere packaging (MAP) extends freshness in baked goods
"MAP has opened up new areas of business for the baking industry," says Fritsche. "For example, an increasing number of consumers are turning to pre-baked bread and rolls that they heat up at home." The baked goods are packed and sealed in tubular bags or thermoformed trays. The air in the packaging is replaced by the protective gas adapted to the product. Taste, quality, texture, and nutrients remain unchanged, and depending on the baked good—bread, rolls and baguettes—the product can remain fresh for between five and 20 days when packed in MAP without the addition of any preservatives, she says.
interpack will be held May 4-7 in Düsseldorf, Germany.
Resources:
VDMA Food Processing and Packaging Machinery Association