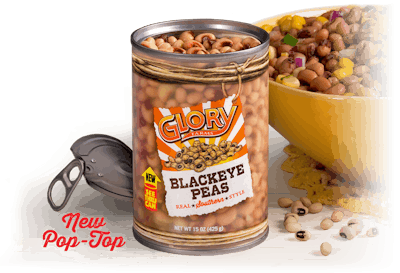 Effingham, SC-based McCall Farms, known for its line of high-quality, Southern-style seasoned vegetables and fruits, has introduced a new brand of ready-to-eat vegetables in a first-of-its-kind see-through plastic can. New Glory Farms Slow-Cooked vegetables in a clear can are now being sold in more than 400 Harris Teeter and Ingles Markets stores in the Southeast and mid-Atlantic states.
"Our new See-Thru can is the most notable innovation in canned vegetables since canning was invented in 1833," says Woody Swink, Senior Vice President of Sales and Marketing at McCall Farms. "Consumer testing was tremendous, and the response at retail has been terrific. Being able to see the vegetables says 'fresh' but also gives consumers a sense of trust because they can see what they are buying. "The TruVue™ plastic can was developed by Sonoco Products, also of South Carolina.
"Glory Farms' new clear can brings much needed excitement to the canned vegetables aisle of the store," says Tom Outlaw, Vice President of Procurement for Ingles Markets."There's a lot of packaging innovation on the perimeter of the grocery store but nothing new in canned goods. McCall Farms' commitment to packaging innovation is a big plus for the category."
Presenting the TruVue can at The Packaging Conference in 2016, Steve Gendreau, Division Vice President, Sales & Marketing – Global Plastic for Sonoco, described the retort can as a five-layer plastic substrate of polypropylene and ethylene vinyl alcohol that incorporates an easy-open steel lid and bottom closure. Explained Gendreau, the technology involves a crimp seam plus an induction-seal end application. Labeling options include pressure-sensitive film or paper labels, and full-body wraparound film labels. According to Sonoco, the TruVue is the first clear can to withstand the rigors of continuous retort systems without overpressure, performing in high-temperature and high-pressure environments.
McCall Farms is using the can for seven varieties of Glory Farms Slow Cooked vegetables: Garbanzo Beans, Pinto Beans, Green Lima Beans, Light Red Kidney Beans, Dark Red Kidney Beans, Great Northern Beans, and Blackeye Peas.
Companies in this article