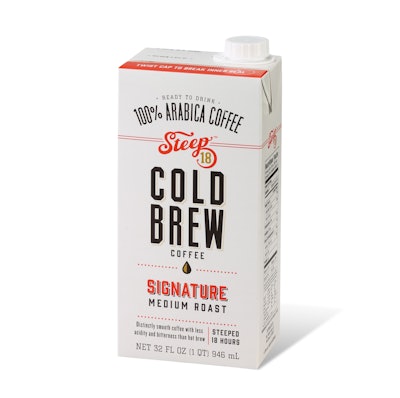 Some like it hot, but the new trend for coffee fanatics is the cold-brew variety. Therefore, STEEP 18, a Treehouse Foods, Inc. company, is right on trend with its new ready-to-drink Cold Brew Coffee line. Sourced only from the highest-quality, 100% Arabica beans, and then steeped for 18 hours to ensure the most potency and taste, the product comes in Breakfast Blend, Colombian, Donut Blend, Guatemalan, Signature, and Sumatran flavors. To best preserve the coffee's flavor, aroma, and color, and to provide maximum consumer convenience, STEEP 18 selected a combiblocSlimline 32-oz aseptic carton from SIG Combibloc to package its new product.
"In a combibloc carton, beverages such as STEEP 18's cold brew coffee are hygienically and securely protected from light and air, and therefore the flavor, aroma, nutrients, and vitamins in the products are retained over an extended period, without refrigeration and with no preservatives," explains SIG Combibloc. "And, because the carton is lightweight and easy to transport, beverages packaged in carton packs are enormously convenient—at home or on the go."
Packaging of STEEP 18 is done by sister company and co-packer Protenergy Foods at its Cambridge, MD, plant. Protenergy installed a SIG Combibloc CFA 312 aseptic carton forming/filling/sealing machine, which can produce the combiblocSlimline, in 2016. The combiblocSlimline format chosen by STEEP 18 has a tall, slim profile and is fitted with a combiSwift screw-cap closure. Notes SIG Combibloc, the combiSwift has an overall height of 12.6 mm and is exceptionally light, at 2.7 g. Carton graphics are printed by SIG Combibloc in six colors using gravure printing.
STEEP 18 is currently sold in Meijer, Sam's Club, Food Lion, Hannaford, and Giant Eagle stores.
Says Shannon Clayton, Senior Category Manager at TreeHouse Foods, "Customer and consumer response to our Cold Brew Coffee in the carton format has been extremely positive. Consumers love the quality of the product and its one-year shelf life without any preservatives."
Companies in this article