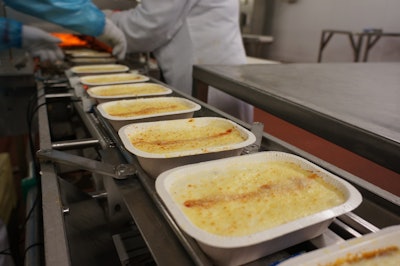 Among the many "what ifs" experts on terrorism worry about is an attack on the nation's food systems. Most feared, because it would be the hardest to prevent, is a lone wolf attack, something that has become more common over the past few years.
According to the FBI, such a threat is more likely to come from an insider, a disgruntled or radicalized worker. This should raise eyebrows, considering the number of employees, contractors and vendors with access to one of the hundreds of thousands of facilities nationwide that make or distribute food.
Food processing plants, restaurants, farms, grocery stores, food storage and distribution centers, supermarkets, even cruise ships could all be at risk of becoming the target of an employee looking to cause death and destruction.
In addition to possible loss of life, mass injuries and major damage, the after effects of a terror attack, such as business interruption and potential lawsuits, would be enough to shutter many small to medium-sized businesses.
Companies can protect themselves in a number of ways, from implementing a surveillance plan to tightening security protocols, monitoring and limiting access points, and training staff to say something if they see something. Purchasing insurance to cover the cost of damages from an attack is another step that many food processors have taken.
Understanding exactly what is covered by your policy is essential. For coverage to apply under the Terrorism Risk Insurance Program Reauthorization Act of 2015 (TRIPRA), for example, the terrorist event must take place in the United States, be formally certified by multiple branches of government as an act of terrorism, and result in an aggregate loss of more than $5 million.
"We see many companies situated in environments where it is impossible to reach required damage levels or other trigger criteria for TRIPRA, and yet they pay their premiums believing they are covered against terrorism," explains Pascal Ray, senior vice president, USI Insurance Services.
"The reality is they would be left uncovered if the damage was less than $5 million, which would be a significant amount that few mid-market businesses could afford to lose."
Some companies with TRIPRA coverage have reportedly experienced lengthy and litigious claims and time-consuming government certification processes, resulting in delays in payouts.
Particularly contentious has been coverage for non-physical damage that interrupts business operations, which is not included in the TRIPRA legislation. Securing this additional layer of insurance coverage could help recover lost business income regardless of whether or not there is physical damage at an insured's business premises.
Ray says new programs are being developed by insurers to address some of TRIPRA's coverage gaps, such as $200 million (and potentially more) limits, flexible deductibles and worldwide coverage.
The best defense is usually a good offense. That's particularly true for the food industry. Start by assessing your risks and make sure you fully understand the scope of the terrorism coverage provided by your insurance policies.
Companies in this article