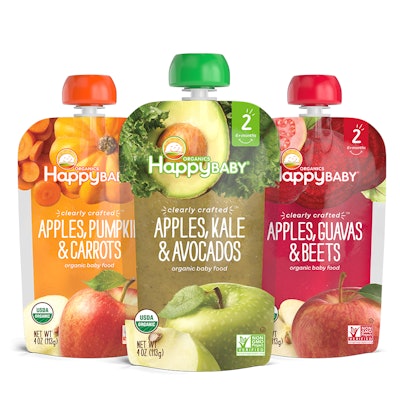 Happy Family, a New York City-based provider of premium, organic foods for babies, toddlers, and kids, has launched a new puréed product for babies, Clearly Crafted Organic Fruit & Veggie Blends, packaged in fully transparent pouches that allow consumers to see the vibrant, fresh colors of the natural ingredients inside.
"Parents are looking for openness and honesty from the companies they buy products from, especially for their baby," says Happy Family CEO and founder Shazi Visram. "We developed Clearly Crafted with this in mind."
Happy Family worked with Bemis to create the transparent stand-up pouch that it says helps the Clearly Crafted product line stand out on shelf. Explains Bemis, clear pouches create differentiation for brands, while offering significant sustainability benefits compared to glass jars with metal lids and cans. In addition, says the company, clear packaging can help promote clean labels and fresh ingredients.
Bemis cites a study showing that clear or translucent packaging has been gaining traction among today's shoppers: "According to a 2015 report on Food Packaging Trends by Mintel, over half of consumers (54%) agree that it's important to see products through the packaging. And nearly one-third of shoppers gauge a product's freshness by its appearance rather than its use-by-date."
"Parents can feel confident feeding their children, by knowing and seeing exactly what's inside the pouch," says Visram. Clearly Crafted was originally launched in 12 SKUs, available nationwide. In March 2017, Happy Family added eight new offerings—veggie-forward flavors and advanced-texture—following the success of the original line.
Companies in this article