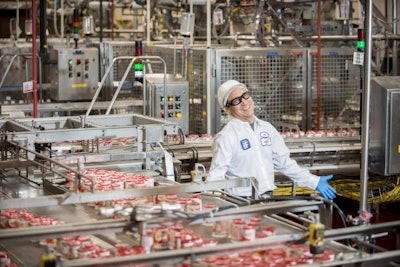 Future-proofing automation strategies for plants come in many different flavors in the manufacturing world and, certainly, in the food and beverage industry. Future proofing fully embraces Industry 4.0 principles, such as production data flexibility, the ability for platforms to scale as the enterprise grows, and increasing efficiencies throughout the supply chain.
Future proofing and even modernizing for smaller food plants start with better production data visibility. In Aberdeen Group's most recent survey on "Achieving Operational Excellence in Food & Beverage," food and beverage "leaders" were only hitting only 36% on "real-time visibility into the performance of global manufacturing operations."
Data exhaustion is a common challenge for big enterprises in the food and beverage industry. Jim Wetzel, a member of the Smart Manufacturing Leadership Coalition and director of engineering of global reliability at General Mills, cited a recent data solution via a presentation with a yogurt production line, including a high-speed packaging line, that was at 30% efficiency.
"We needed to double that capacity, and no one was looking at the millions of data points created each day," says Wetzel. "Our entire network at General Mills creates 700 billion data points a day. No one at the factory was looking at the PLC information at this plant."
"By analyzing that data and understanding in milliseconds the responses of servos and motors, we were able to troubleshoot this line from an engineering perspective," he states.