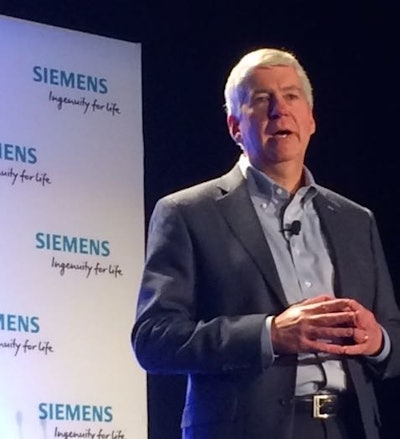 Just as automation is forcing us to think differently about how we work, we must also take a step back and think differently about why we work in manufacturing—and to think strategically about the methods used to attract new talent to the industry.
That was the message delivered by Michigan Governor Rick Snyder during his keynote last week at the Manufacturing in America Summit, presented by Siemens USA and Electro-Matic Products. Snyder is a self-proclaimed "nerd" having worked for computer company Gateway for a portion his business career, and is on a mission to help Michigan rebound from the high unemployment rates that have plagued the state. Today, the state's unemployment rate is at its lowest point in 14 years.
Much of that success stems from not running away from manufacturing. "We were a broken state…and a lot of people were saying we need to leave manufacturing and find new fields. I thought that was backwards," Snyder said. "When you are at the bottom of the market, you should double down. If you want to build a strong economy it is about producing goods and services to sell outside of your borders." And not just outside of the country, but to other states, he said.
Snyder said his role as governor has been to create an ecosystem and environment for success, and a top priority is finding talented people. That's the basis behind Pure Michigan Talent Connect (www.mitalent.org), an online marketplace for uniting Michigan job seekers and employers. On the website, which currently has almost 100,000 jobs posted, skilled trades are promoted as fulfilling careers in the healthcare, IT, construction, automotive and advanced manufacturing fields. What's different here is the way in which these jobs are identified.
"We redefine what [a skilled trade] is," Snyder said. "It is not just a welder, a plumber or an electrician. A skilled position is an industrial automation expert or a robotics technician. We need to understand and promote that."
Indeed, the limited scope in which we think of trade jobs is a national problem that requires a cultural shift to break through the silos of restricted thinking. In general, we need to let people know that there is a tremendous career opportunity in choosing to be a machine operator on the manufacturing floor, for example.
The Michigan talent website lists advanced manufacturing as cutting-edge careers using 3-D models, computer simulations and software development. And, the job titles and roles are evolving as fast as the technology.
Snyder said at a recent automotive show he spoke with representatives from Washtenaw Community College in Ann Arbor, which has created a mobility technician program to educate the future workforce on the technology that goes into the connected cars and self-driving vehicles. "It was the first time I'd heard the term, but there will be a huge need for mobility technicians," he said. "And how many mobility technician programs are out there today? We need to do more."
Doing more starts way before college, however, which is why Michigan has over 10,000 students participating in the FIRST (For Inspiration and Recognition of Science and Technology) programs. In addition, Michigan is starting a new cybersecurity program in the K-12 school system.
"These are all opportunities to make sure we can succeed in Michigan, not just in the next few years, but in the next generation," Snyder said. To sustain this momentum the industry as a whole must rethink how we present manufacturing to the world. It is not just the making of a product. "We need to remind people that manufacturing is about making something to improve people's lives."
Snyder ended his Manufacturing in America keynote with a final thought: "We need to be proud."
Companies in this article