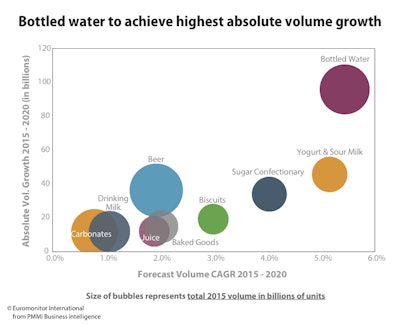 Bottled water is forecasted to grow at a rate of 7.5% globally or an increase of 55 billion units between 2015 and 2020.

PET remains the package of choice for water globally, but glass, and even metal containers, are recovering some lost market share due to premium bottled water offerings in North America, Western Europe and Brazil.

Euromonitor compiles data points and qualitative analysis for 80 countries. Markets include Beauty and Personal Care, Beverages, Dog and Cat Food, Home Care and Packaged Food. Both primary and secondary retail packages are studied, including internet sales.

Source: PMMI Business Intelligence, Global Packaging Trends Report 2017, produced by Euromonitor and sponsored by leading packaging associations PMMI, Australian Packaging and Processing Machinery Association, Italian Manufacturers of Automatic Packing and Packaging Machinery, and the Processing & Packaging Machinery Trade Association.
Download the entire 95-page study here: www.pmmi.org/research/