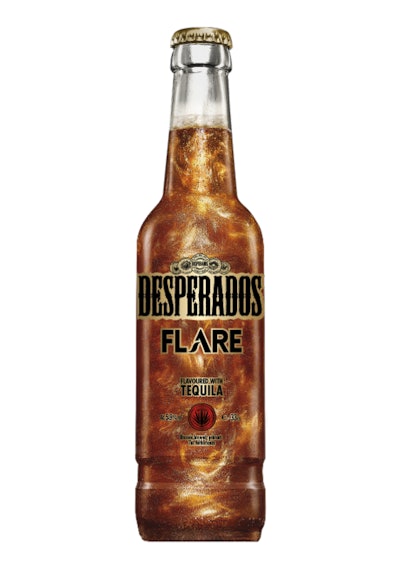 Heineken's recently introduced a limited-edition package for its Desperados Original brand, a beer flavored with tequila. Designed to appeal to a younger audience for celebrations and special occasions, Desperados Flare launched simultaneously in 10 countries in late 2016. The original beer recipe stayed the same, but mesmerizing glitter swirls were added to the drink so that the product was a festive accessory to a celebratory occasion.
The label had a very important role: to reinforce the premium nature of the brand and to keep the right balance between standing out on shelf and allowing the product itself to shine. The Desperados brand identity needed to remain strong, while the product itself stood out from the rest of the range.
The team wanted to make sure that the label complemented the golden particles in the liquid, especially once the bottle was tipped. To achieve this, Constantia Flexibles selected a silver cold foil and overprinted it with a gold wash. This allowed them to achieve various shades of high metallic gold effects by just changing the gold wash.