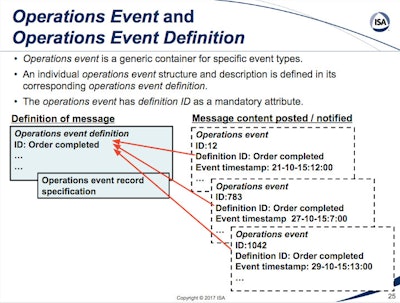 A lot of smart manufacturing discussion in the food and beverage industry centers around how companies can address multi-plant performance goals with scalable automation solutions, such as cloud-based enterprise resource planning (ERP) or even manufacturing execution systems (MES). Corporate management likes cloud solutions due to reduced costs per plant, and now new publishing/subscribe industrial networking protocols, via open platform communications unified architecture (OPC UA) and MQ telemetry transport (MQTT), could unlock real-time data for better optimization.
However, plant technology staffs are quite lean, and new IIOT or smart manufacturing projects need industry standards to get projects off the ground. For the last 20 years, discrete manufacturers have relied on the ISA-95 international standard to guide end users, OEMs and software developers on the proper information model interface between enterprise and control systems.
There are five parts of the ISA-95, and at the heart of the standard are the information models between control systems and the enterprise. However, integration models play a large part, too. The fifth component tackles this issue as it relates to smart manufacturing and cloud applications.
MES is an information system that drives effective execution of manufacturing operations. It uses real-time plant-floor data to trigger, guide, verify and report on plant activities, such as order release, manufacturing, delivery and finished goods inventory. Process and batch manufacturers have also expanded MES and also call it manufacturing operations management (MOM) that offers supply chain materials and quality functions as well.
But what about MES and real-time execution of plant-floor manufacturing operations in the cloud? Is there a place for all the components of MES in the cloud, or a hybrid of sorts?
To answer that question, ProFood World reached out to Charlie Gifford, senior advanced manufacturing consultant and contributing member of ISA-95 Manufacturing Operations Management Working Group. "The MES cloud solution is a five- to 10-year journey that will have a good deal of trial and error," Gifford says.
Gifford has been recently working on the major updates to Parts 2 and 4 of ISA-95, called the smart manufacturing integration (SMI) framework. It deals with new information models, common operations manufacturing events and MOM information exchange profiles.
"Companies want analytics, reporting, all maintenance, and most inventory applications and some quality management in the cloud," says Gifford. "The actual MES or workflow execution is where management gets a little hesitant on moving forward (to the cloud)."
"The food industry loves overall equipment effectiveness (OEE) and metrics," says Gifford. "But current measurement approaches are like looking through a rear-view mirror. Companies look at a week, month or quarter after the production events and don't understand the down piece of equipment."
The working group is writing three new parts to ISA-95, but the two object model parts (2 and 4) are moving toward a configurable form that will provide an industry 4.0 integration environment for any manufacturer.
"With those two updated object model parts standardized by the end of the year, we'll have addressed a technology need for cloud-based MES to work," says Gifford.
These updates by the ISA-95 working group move integration to an event-driven architecture and away from asynchronous architectures. "The flaw of not just ISA-95, but many approaches to integration within the plant is that it's data-centric instead of process-centric messaging for interactive operations," says Gifford.
The standards body is adopting the publish-subscribe protocol promoted by OPC UA, Microsoft, IBM and many other automation vendors. Specifically, Gifford adds "that there are common manufacturing events in the MES layer, and the working group is working on identifying 20 to 30 common operation events in the new Part 9 of the ISA-95 standard."
"Those common 30 Level 3 operation events — dispatching production, scheduling, reliability, etc. — we're defining the data sets and objects, so when those events occur, I simply publish the whole block of information for the event in one message," says Gifford.
The MES journey to the cloud is just starting, and more real-time measurement for food and beverage producers needs to be in place for optimization projects to succeed.
Resources: