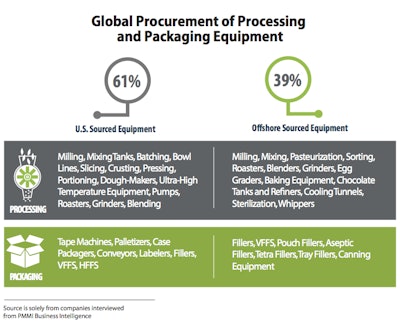 One engineering manager for a dairy said, "Our process equipment is U.S. sourced and assembled but uses European components." But even this company sourced globally in the case of aseptic processing equipment to extend shelf life. There just are not many U.S. manufacturers offering choices.

Ultimately, respondents chose the OEM that best fit their requirements, regardless of location. A process manager in bakery said, "Almost all of our baking equipment comes from off shore." A director of engineering for a beverage company said, "Some process equipment is not available in the U.S."

Longer lead times and delays in customs as well as parts/service availability are still concerns from U.S. food processors when sourcing off shore. Time zone differences and variable currency rates figure into the equation as well,

According to the study, advantages in favor of sourcing "locally" are faster delivery, better parts availability, faster service and product support, as well as the ability to deliver compliance with OSHA standards consistently.
Source: PMMI Business Intelligence: Trends in Food Processing Operations, 2017.
For more on equipment purchase plans, market segment forecasts, etc., download the entire study here.