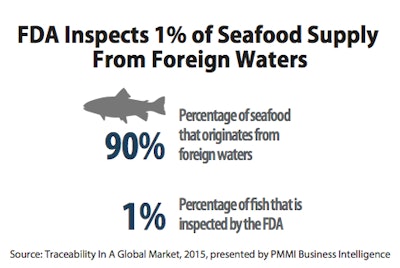 As the supply chain becomes more complex, brand manufacturers are being called on to provide product traceability, quality, integrity and safety. It is estimated that 7% of products in your grocery store contain fraudulent ingredients.

Of the ten top counterfeiting targets, pharma is number one, but food holds the number four position. Food products most counterfeited include olive oil, honey, coffee, vinegar, vanilla and fish!

One quality assurance manager at a fish and seafood operations said, "QR codes or pallet tags now carry information on where and who caught the fish. Far East is harder to trace. The more information the better, in the future would like tracking from boat to table."

The pressure is on processors and retailers to adopt strict chain of custody requirements. Increasingly, commercial satellites will be used to track seagoing vessels to determine origin of fish carried into ports. Data about each vessels' location and route will be stored along with all identifying information.

Source: PMMI Business Intelligence, Brand Protection and Product Traceability 2016.
Download the entire study here.