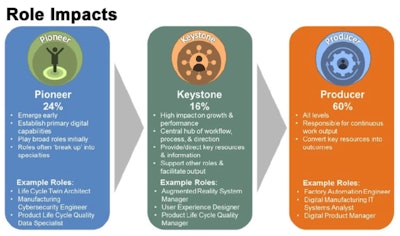 In the 1967 film "The Graduate," family friend Mr. McGuire has one word of advice for young college grad Benjamin Braddock: "plastics." That was then; 50 years on, the one word of advice today might be "data."
Whether a young person plotting a future career or a well-established production worker trying to stay relevant, a job focused on the newest currency—data—will likely provide streams of opportunity for years to come. Next-generation manufacturing will revolve around some form of the Industrial Internet of Things (IIoT), with data being collected and analyzed from every device on the floor. Manufacturers need the right workforce in place to compete in this new environment.
A new workforce analysis from UI Labs and ManpowerGroup identifies just what those data-centric jobs might be—165 careers that could help shape next-gen manufacturing in the U.S. Collaborative robotics specialist, manufacturing cybersecurity strategist, enterprise digital ethicist… These are the kinds of jobs that will put new technologies into practice and remain globally competitive.
The two organizations say the report, Digital Workforce Succession in Manufacturing, is the first to offer such a comprehensive workforce playbook to help companies develop a talent pipeline for existing and future factories. The research includes in-depth profiles for 20 representative roles that span a range of digital technologies and business practices, such as virtual reality/augmented reality systems specialist.
"The new roles we have identified will help prepare American workers for the technological shift that is underway, providing attractive, well-paying jobs for the next generation of manufacturers," said Caralynn Nowinski Collens, CEO of UI Labs, a university/industry cooperative focused on accelerating innovation. "A smart factory is going to be very dependent on this new workforce."
The report also describes the type and level of educational degree associated with each position, ranging from an associate of applied science in robotics technology to a Ph.D. in mathematics or engineering.
"Digitization is transforming the job market, creating a need for people with more advanced skills in manufacturing, and our work with UI Labs is evidence of this," said Jonas Prising, chairman and CEO of ManpowerGroup, a workforce provider. "By mapping the digital roles and skills of the future, our research will help companies and schools upskill today's manufacturing workforce for the connected, smart machine and augmented-technology jobs of an increasingly digital enterprise. This will help bridge the skills gap and highlights the advanced and attractive jobs emerging on the forefront of the manufacturing sector."
UI Labs' Digital Manufacturing and Design Innovation Institute (DMDII) and ManpowerGroup's Right Management and Experis brands conducted the research with the support of more than 30 industry, academic and government partners. DMDII financed the research using funds from the U.S. Department of Defense, with ManpowerGroup's experts leading the detailed skills analysis.
In fact, the report contends that 65 percent of the jobs that Generation Z (those coming after Millennials) will work at have not yet been invented. The researchers see changes happening in the workforce quickly, further pushing the need to accelerate workforce definition and development. So the report focuses not only on the data-centric roles needed today, but predicts roles for tomorrow as well.
"The workforce analysis conducted by DMDII and ManpowerGroup offers insight into exciting new roles and skills needed to advance American manufacturing," said Gail Norris, director of customer technical learning services at Siemens. "The report envisions a future in which digital technologies like artificial intelligence and augmented reality are commonplace in factories across the United States."
The report also emphasizes the importance of "connected roles" and "transition roles" to bridge the chasm between today's more established manufacturing roles and functions. Researchers identified more than 60 roles—primarily technicians, specialists and analysts—that serve as transition roles. These are focused on conventional production workers who can leverage their existing knowledge and—with additional training and development—move into more connected, augmented technology areas.
With 165 roles identified in all, the researchers chose 20 key roles to expand on within six primary domains:
Digital Enterprise:
Chief digital officer
Digital manufacturing organizational change management strategist
Enterprise supply network manager
Enterprise digital ethicist
Digital Thread:
Digital thread engineer
Manufacturing cybersecurity strategist
Digital twin architect
IT/OT systems engineer
Digital Design:
Model-based systems engineer (MBSE)
Virtual reality/augmented reality system specialist
Worker experience designer
User experience architect
Digital Product:
Embedded product prognostics engineer
Supply Network:
Predictive supply network analytics engineer
Digital manufacturing biomimicry specialist
Digital Manufacturing:
Digital manufacturing engineer
Predictive maintenance system specialist
Machine learning specialist
Factory automation engineer
Collaborative robotics specialist
These roles are not necessarily the most critical or highest value; they are simply representative of the kinds of changes the workforce is experiencing, the researchers emphasize. "Yet these 20 profiles pave the way for deep understanding of the opportunities for manufacturers and the workforce alike, and represent targets for educators and workforce development programs," the report says.
To download the full report and the 20 detailed profiles of advanced digital manufacturing roles, visit http://www.uilabs.org/taxonomy.